I have never conceptualized Bondage Blog as an important part of the dom seeking sub (and sub seeking dom) internet. As demonstrated by the link in this post inter alia, there are sites for that. But even a happily partnered kinkster like myself feels a certain solidarity with folks who are still out there looking. I've been there; I know it's lonely and sometimes when it hasn't gone well for awhile it can get depressing. It's my hope that Bondage Blog can help with that in a non-obvious way. I publish a lot of kinky erotic art and photos. One way this can help lonely people is by reminding them that people do get together and find kinky play partners, so it's worth keeping at it!
I love the optimism of the fishnet dominatrix in this first photo. Her smug smile says "Behold my sub-keeping cellar that I have built! Foolish sub, if you descend my ladder I am keeping you forever. Regret it? Of course you will! But you'll also have quite a bit of fun…"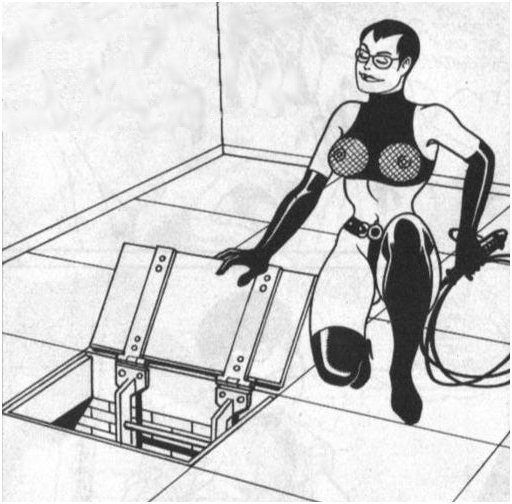 That's the kind of confidence that gets play partners. You just know her sub cellar is never empty!
Then there is the eternal question: what's the point of having a sub if you don't toy with them? Apparently our fishnet dominatrix is a big believer in the old game of tying her sub to some solid object where he can't do any damage and can't reach himself or her or anything else fun. And then she settles back for some good old-fashioned self-pleasuring. It's fun for her, it drives him wild, and depending on her stamina, there's really no limit on how long she can draw out the game. In between orgasms she can always go over to his post (or whatever he's tied to) and pet him and tease him and get him all hot and bothered: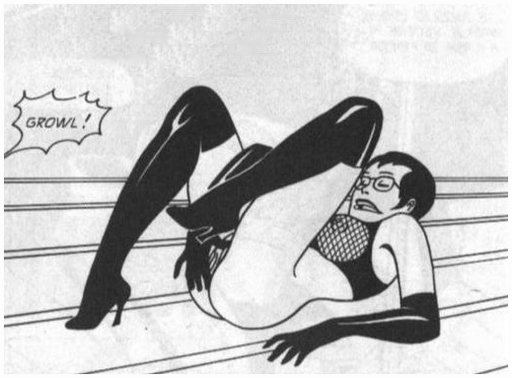 Any good dominatrix has to have rules, though, and a naughty sub will occasionally break them. Perhaps he found a way to have an unauthorized wank, while he was supposed to be watching his mistress's self-pleasure. It doesn't matter; there will always be infractions. For is it not a fundamental rule of storytelling that a bullwhip seen coiled in Mistress's hand in the first panel of the comic must be cracked against helpless flesh before the end of the story?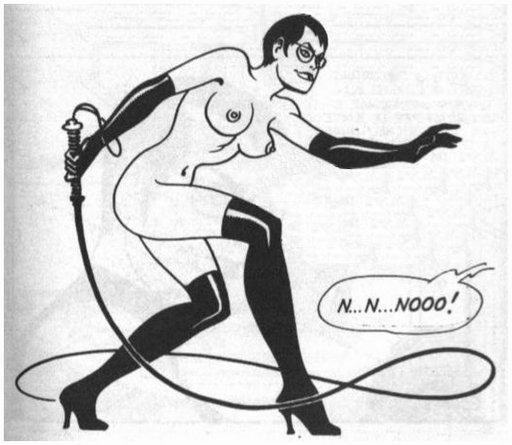 Dominatrix panels are from Italian fumetti comics drawn by Magnus.