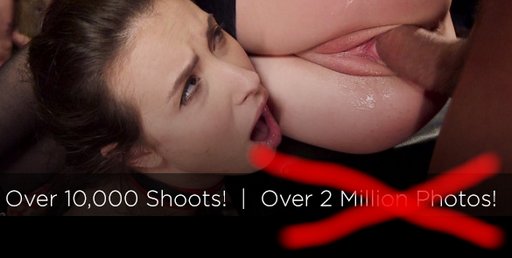 Over the last year, venerable BDSM porn producer Kink.com has quietly removed its huge archive and library of more than 2,000,000 fetish porn photographs from the market. The photos are no longer available to the public as part of any of Kink.com's pay-per-view or subscription offerings. With the exception of 15-20 free-to-the-public promotional photos per shoot (which represents less than 10% of the total archive) Kink.com is no longer in the dirty pictures business. Given that some of the shoots used to have 300-400 photos available for paid members, the news represents an enormous shrinkage in the Kink.com offering, which is now presented as a pure video product: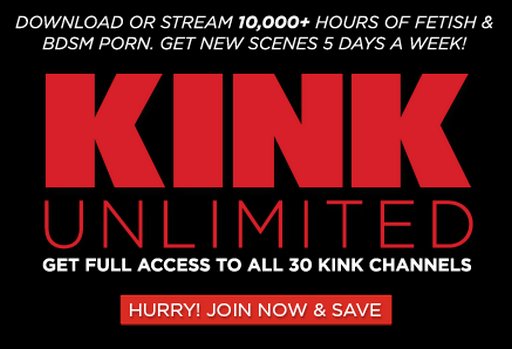 This development has been slowly building for almost two years, and the company has offered conflicting responses to questions about the change. The current word is that the images will someday return as zip file downloads available to subscribers, but an affiliate manager emailed me on September 6 that "the issues that forced us to remove them … are complicated" and they "don't currently have a specific time that we will be returning those images to the site." In a followup email on September 27, the affiliate manager confirmed "there remains to be no timeline for photo resolution." Viewed together with the removal (between September 21 and September 22) of the front-page banner offering access to "Over 2 Million Photos!", I think it's fair to predict that the still photos are probably gone for good.
Background and history: the kinky porn sites for which Kink.com is so famous used to be individual porn sites at URLs like Hogtied.com (since 1998!), SexAndSubmission.com, and DeviceBondage.com. These URLs no longer exist as independent websites or porn products; they are now "channels" at Kink.com.
Kink.com has been "migrating" its sites from their original URLs to its new channels since December of 2014. The project began with all the company's moribund "legacy" sites that haven't been updated in years, such as Water Bondage, Wired Pussy, Men In Pain. In May of 2015 I noticed that the new "channel" architecture for the legacy sites at the Kink.com URL didn't seem to offer access to any photos, so I reached out to inquire about the change. On May 14 of 2015 my contact at Kink.com told me:
We are working to create the best possible user experience for our members on kink.com, which is why you may notice a lot of onsite changes lately.

One of the sacrifices that was made to our sites was the images that we previously shared with our members. To be frank, the design and functionality on the new platform just didn't allow for it.
In a follow up email that same day, my contact confirmed that "photos did not make the cut" for the Kink.com redesign, but "photos is something that we have spoken about internally, and we are trying to make the vintage photos make sense in an updated format."
Four months later I tried to follow up, with a series of emails that at first went unanswered. Finally, on November 5, 2015, I got more bad news about the legacy archive of still photos:
I don't see this changing any time soon. We have only been able to isolate a small portion of our members who use or appreciate them…
I left it alone after that, until June of this year when Kink.com began to advertise its Kink Unlimited product, which is the new consolidated buffet offering of all the Kink sites under one subscription. (It's a great deal, too.) I noticed the "Over 2 Million Photos!" banner (the one at the top of this post) was still flying on the Kink.com front page, but I could not find the photos anywhere in the Kink Unlimited offering or in any of the legacy "channels" that replaced the individual sites. So I reached out to affiliate support and inquired about the current status of the 2,000,000 photos. On June 30, 2016, Kinkydollars Support told me:
Unfortunately, we had a technical issue with our zip files that we are trying to resolve so we can offer images as zipped files to paid members again. But it's on the roadmap!!
That sounded promising. But, sadly, it seems not to have been real. I immediately asked about a timeline, which was not forthcoming. Then in August when the Kink.com marketing director began advertising on adult webmaster boards that "as of August 1, we are 100% migrated" I started making inquiries again. But it was not until September that that I got the word (quoted above) that there is no timeline. Put that together with the fact that access to the photos is no longer being advertised as of September 22, and I think it's safe to predict that still photos are permanently gone from the Kink.com product offering.
What does this tell us about the state of the porn industry in 2016? I have two theories, neither of them good:
1) It's possible that there's no longer any market demand for still porn photos. An economist would assume that Kink.com is a rational actor in an efficient market and must have run the numbers, concluding that the photos don't matter to enough customers to justify the cost of serving them up. If true, this would be dismaying to me; I like a dirty video as well as the next fellow but porn photographs have a charm of their own. If they are on their way out — if "internet porn" as a commercial product is not going to include still photos in future — that's a loss that makes us all a little bit poorer. But I don't really believe this theory, because:
2) It's also possible that Kink.com is not a rational market actor making a cool green-eyeshades economic decision. Instead, it may be an over-extended producer in a shrinking market (nobody much pays for porn any more and the problem gets worse every year) and the loss of the photo archive could be a "flailure" — an unintended consequence of the technical chaos of their consolidation from dozens of porn sites to one porn site. If we speculate that they are a company under intense financial pressure, it could be that they consolidated the sites on a too-small budget using limited technical resources. It could just be that the code to deliver the promised zip files just didn't work or never made it out of the programming queue. It's not hard to imagine some overworked manager under deadline pressure (or even Peter Acworth himself) just saying "fuck it, we don't have time or budget to worry about that."
Either way, it's sad that such a beloved archive of kinky porn is no longer available for any price. I, for one, will miss it!
Elsewhere on Bondage Blog: