If you've ever googled up any self-bondage or "left tied up" stories, you've probably encountered the "handcuff keys left frozen in an ice cube" trope somewhere. Now, new from the Stockroom, there is a stylish stainless steel Ice Lock to accomplish the same type of play: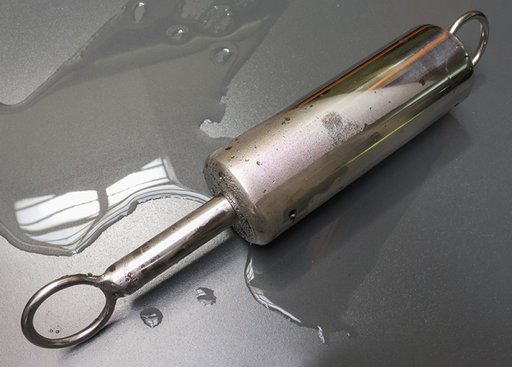 Of course this ice lock is probably better used to enforce a timed bondage sentence on your bondage submisssive, given that all the usual hazards of unsupervised bondage and self-bondage still pertain.
More information from the Stockroom:
Does your sub deserve to be put in their place? Now you can lock your partner down for hours at a time, with this Stainless Steel Ice Lock. Available in small or large, this lock will allow you to keep them in the position of your choosing while you tease, torture, and bring them to the brink–over and over.

All this is possible because the Ice Lock has an ingeniously simple way of insuring that the sub doesn't go anywhere: The key is encased in solid ice within the two halves of the metal cylinder. Until the ice melts, there's no key to undo the lock with. Using the larger size, it can take from 40 minutes to 2 hours for the ice to melt, depending on the temperature of the room and how much your sub struggles. WIth the smaller size, time can last from 15-45 minutes.

Made of high-quality materials, including rust-proof steel (meaning that this lock can withstand any number of lubricants without fail), and beautifully sexy and utilitarian. For use with any toy or furniture with attachment points.
Elsewhere on Bondage Blog:
You can
leave a response
, or
trackback
from your own site.