It was a really successful watch party. He's got a back yard with tall fences. They cooked out, watched the game on a big screen on the patio, drank a lot of beer, and had a great time. The guys in his crew are all kinky, so he made his wife do most of the cooking and all of the serving wearing cuffs and chains and not much else. She got really sweaty; the guys kept her hopping and were very demanding, just like he invited them to be. Some of the serving was really personal, too. He told her "keep the boys happy" — and he meant it.
After they all left? She was a sweaty wreck, covered in dirt, stale beer, cigar smoke, and dried you-know-what. He said "You're not going in the house like that" and turned the hose on her: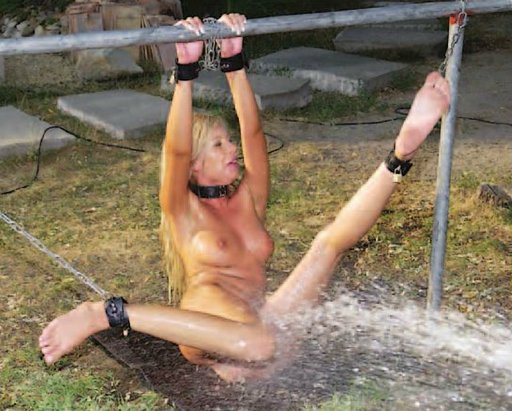 Photo is from an old Taboo magazine, which you can still find on the Hustler's Taboo website.
Elsewhere on Bondage Blog:
You can
leave a response
, or
trackback
from your own site.