Have a Twisted Monk Christmas: as merry a Christmas as a bondage aficionado could hope for! But you'd best hurry; they are saying December 12 is the last day to ship US orders for Christmas delivery.
Special for the holiday season, Monk has a December-only "color of the month" (these tend to sell out fast) that's perfect for wrapping your living presents or putting in a Christmas stocking: Naughty List, described as "a rich coal-grey with hidden flashes of cranberry and sugarplum."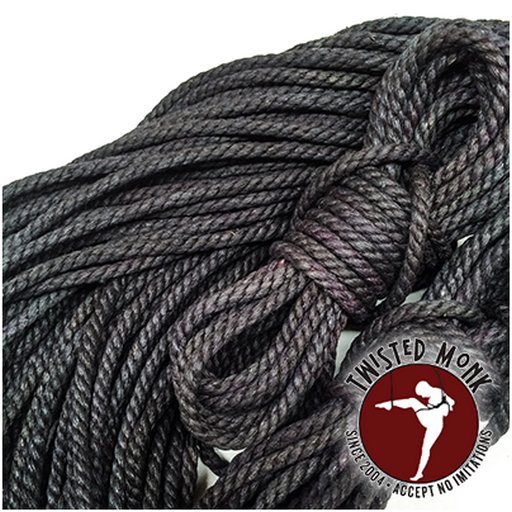 Although Monk doesn't do holiday sales or much holiday-specific merchandise, his website remains a candy store for bondage-oriented kinky people. In addition to the best-made, most-colorful, and most-luxurious bondage rope in the world (available à la carte or in a wide variety of useful kits for every need), Monk also offers BDSM accessories like these Curiosity wax-play candles: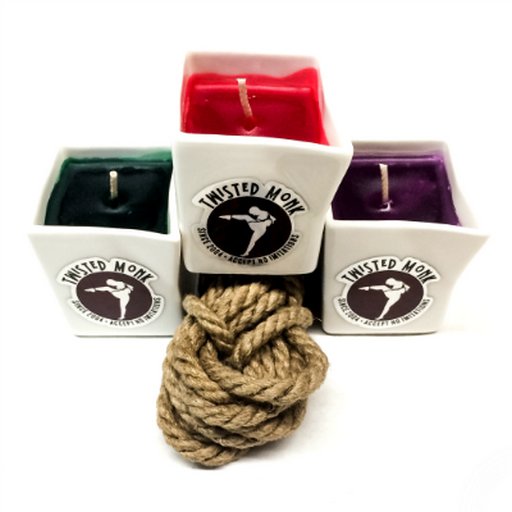 Curious about wax play? Made from low melt-point unscented 100% Paraffin wax and cosmetic grade skin-safe pigments, our Curiosity Candles are a great way to start!

Hand-poured into refillable 3oz porcelain containers with a convenient pour spout, each candle provides enough wax for several light uses or a couple heavier scenes. Drip from a distance for artistic splatters, or nearer the body for stronger sensation.

Refills sold separately.
Also don't miss Monk's specialty steel bondage products (including the original Ass Hook with pleasure balls in various sizes).
Why buy your bondage gear from Twisted Monk? To ask the question is to reveal that you haven't yet had the pleasure of playing with Monk's stuff: it's a non-stop parade of high-quality tactile delight. Simply put, his bondage shit is awesome. Plus, if it matters to you (which of course it does) Monk's stuff is ethically sourced, ecologically produced, body-safe, and (where applicable, as with the oils used to process the hemp) vegan. If you haven't had the pleasure before? Enjoy!
Elsewhere on Bondage Blog:
You can
leave a response
, or
trackback
from your own site.