Have you bought one of the inexpensive Neon Wand electroplay toys in the two years since they first hit the market? Have you found yourself hankering for more attachments? (Of course you have.) Well, now the Neon Wand Accessory Kit is finally available, with eight different attachments in a handy carrying case: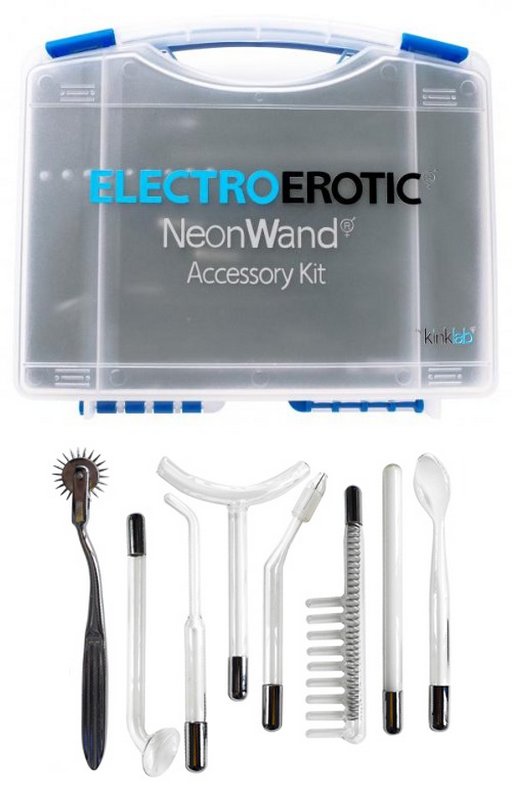 According to The Stockroom, the attachments include:
1) The Tongue: The bulb of this electrode tapers to a snub-nosed end, giving it the appearance of a small, electrified snake's head.

2) The Cloud: A tubular attachment that lights up with an otherworldly luminence.

3) The Helix Comb: The teeth of this comb allows a soft flow of electricity to caress and tease evenly.

4) Live Wire: The fine metal point of this probe is perfect for targeting more intense sensations than other, glass-tipped probes.

5) The Dali Electrode: Perfect for using on arms and legs, creating 2 simultaneous points of contact.

6) The Condenser: The smaller tip of this attachment puts out a more focused, powerful connection.

7) The Mushroom Electrode: Emits a gently tickling, wide arc or light to guide your explorations.

8) The Pinwheel: When using the Power Tripper (not included), this metal wheel causes a slightly strong jolt when rolled over a person's skin.
Elsewhere on Bondage Blog:
You can
leave a response
, or
trackback
from your own site.