For all those times when you literally don't want her to move a muscle, The Stockroom has got you covered with a fiendish bondage device called The Debilitator: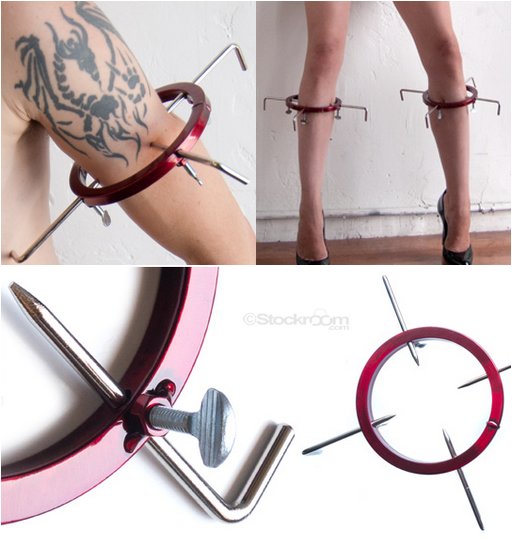 They explain:
Rather than binding the wrist or ankle in restrictive materials, the Debilitator goes to the heart of the matter, pinning and disabling the forearm or calf of your sub for total temporary immobilization. Slip the steel band around the extremity you wish to immobilize, adjust the stakes and screws to apply firm, even pressure around the appropriate muscles. Turn set screw until it stays in place.

That's all there is to it. Without breaking skin or securing a lock, you've managed to completely paralyze your sub's limb. The effect is uncomfortable, but not overly painful, which makes it a great tool for training and light-to-intense discipline.
I have to say, too, that even though Bondage Blog covers female domination of men only only rarely, the Debilitator strikes me as being extra fun for use in femdom scenarios. Bondage devices (like The Humbler) that negate or subvert male strength are always fun, and this thing is essentially a pain-bounded prison for a specific muscle group. What's not to like?
Elsewhere on Bondage Blog:
You can
leave a response
, or
trackback
from your own site.