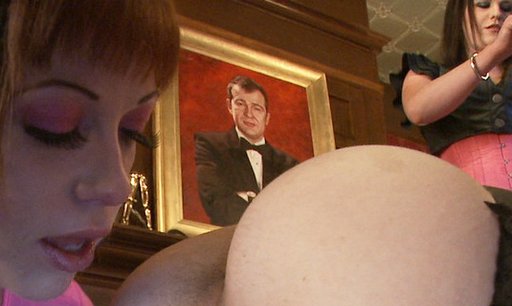 There's a surprisingly candid personal history of The Upper Floor project on Peter Acworth's blog. Selling so much porn you can eventually buy a castle and fill it up with willing slavegirls? Who among us hasn't toyed with that notion, am I right? But Acworth actually did it, sort of, subject as always to the commercial and social constraints of our time, and while he doesn't deny it had its moments, it didn't really work out to be as awesome as you might think:
Prior to the Upper Floor project, I had kept relatively good boundaries between work and private life. I never performed on camera, and had a separate set of friends outside of work. By this stage of the Upper Floor project, however, these boundaries gradually eroded, and from my perspective life gradually lost authenticity. I lost the separation between my business and personal life, together with a sense of distinction between my public and private persona. When I interacted with guests who came to The Upper Floor, I played the 'King of the Castle' role on camera, but this was also the core of my social life. I ceased to know the basis of these relationship – were these people my actual friends or not? I also performed sexually on camera with the paid models and/or with guests. I would hang out with employees, guests and models after shoots were done. I rarely hung out with people from the outside world. I certainly struggled to date, which, I now realize, may have had something to do with the fact that there was a camera in my bathroom.

I began to question my motives for having created this space. Why was there a giant portrait of me wearing a tuxedo in a gold frame? Was I building a fantasy from a book or was this a quest for fame and was my ego the primary driving force? The more public my life was, the more alone I became. I had once in the past hosted weekly parties where hoards of people would come and enjoy free drinks I paid for. Were my motivations back then similar? These experience was starting to make me question who I was and how I had got there.

…

So, ultimately, the early phases were very much a learning process. Everyone, including myself, moved out in early 2011, and there are no plans to resurrect the idea of a 'resident' performer. JP continued to direct in my absence for a while, and James Mogul moved back in 2012 to take the project back. Models are now contracted for fixed periods of time to do defined performance activities for the camera. They know when to switch their on-camera personas on and off. Everyone involved knows what is expected of them and are able to keep healthy boundaries between their work and personal lives. At the end of a day's work, everyone steps out of the fantasy and goes home. Modelling, administrative and production roles are deliberately kept separate.

In a situation like the Upper Floor, we have learned that it is better, more effective, and healthier to put on a show for the customers and extras who come into our world as opposed to striving for authenticity all of the time. There is magic in theater and authenticity in the joy of being in a fantasy. We are all capable and eager to let our imaginations run free — much as happens when one reads a book.
For fans of the Armory itself, Peter also just blogged about the very slow and expensive project to turn the Drill Floor space back into a community venue.
Elsewhere on Bondage Blog:
You can
leave a response
, or
trackback
from your own site.