THE PORTABLE PRISON:
An Asset to the Ideal Home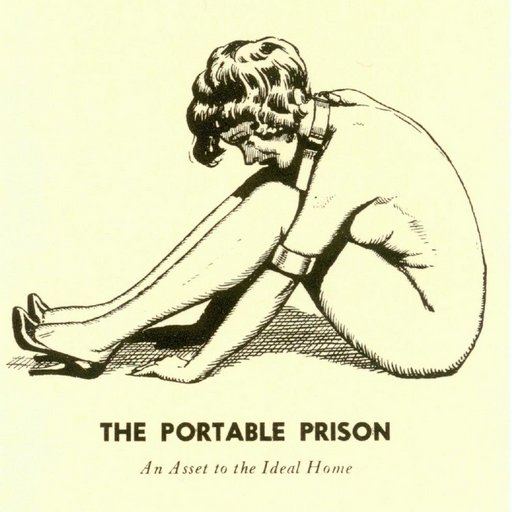 I don't know if anybody has ever manufactured this very practical-seeming domestic restraint; John Willie drew it for an illustration in his long-running Bizzare magazine (Issue #8, 1952). Here's what he had to say about it:
Our ingenious old ancestors devised many very simple but extremely effective gadgets for punishing wrongdoers, and for ensuring peace in the community.

The Stocks, Ducking Stool, Scold's Bridle, Drunkard's Cloak, and Pillory are well known, but here we have another device which today could also serve the excellent purpose of making a home sweet home.

Does your husband (or wife) stray? The patent (expired) portable prison shown above will prevent it. Does your wife throw the crockery at your head? Then use this gadget for a quiet life.

All it consists of is a "T" made of stout iron. Each stroke of the T ends in a ring — the ring on the down stroke of the T opening on a hinge. The contrivance is placed under the malefactor's knees as she (or he) sits on the floor. Then the arms are introduced into the two rings on the cross of the T. The down stroke with its open neck ring sticks up between her legs. Bending over, the neck is placed in the proper place, the padlock is snapped shut, and there you are. The victim is not in the least uncomfortable — at least not for a time — but quite definitely unable to do much about anything.
Elsewhere on Bondage Blog:
You can
leave a response
, or
trackback
from your own site.