At the newish Sexually Broken website they call this position a "bondage pile driver" pose: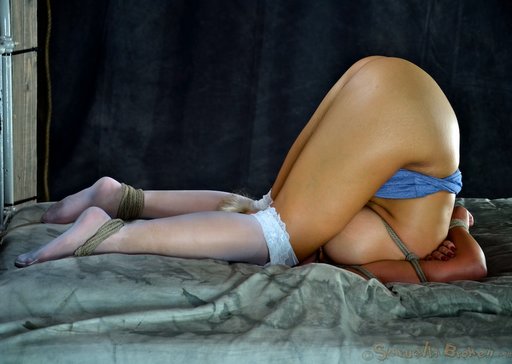 It's not shown here, but the lovely-and-flexible Phoenix Marie does indeed get "pile driven" most impressively by director Matt Williams while she's in the position for it. I know that first picture is nothing but legs and boobs and rope, but it's really her. Here's a better shot where you can see her face after it comes untucked from between her knees as a consequence of some of that vigorous pile-driving.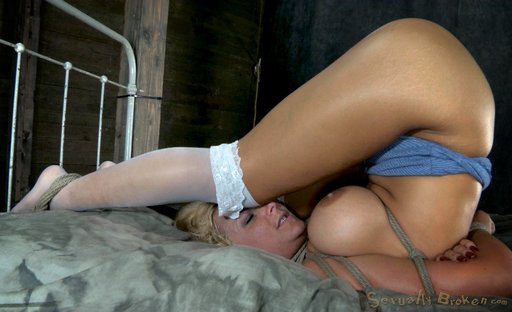 This is from yesterday's (12/17) update at Sexually Broken, so there aren't any free galleries yet. You can take my word, though, that we're seeing only the third (of three) "fuck me in bondage" poses Phoenix spends a lot of time in during the shoot. She also gets tied wrists-and-ankles to that iron bed frame with her legs up and gets fucked that way, as well as flopped over face down at the edge of the mattress for a difficult-angle head-back deep throating. At Sexually Broken, the bondage (though strict) is primarily an enabler for the rough bondage sex — and isn't that a big part of why we all like it so much?
Here we can see in her face that the strain of that position is starting to get to her: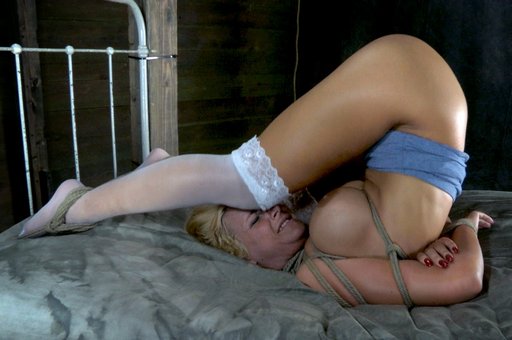 Cameraman, can we close up a bit, please?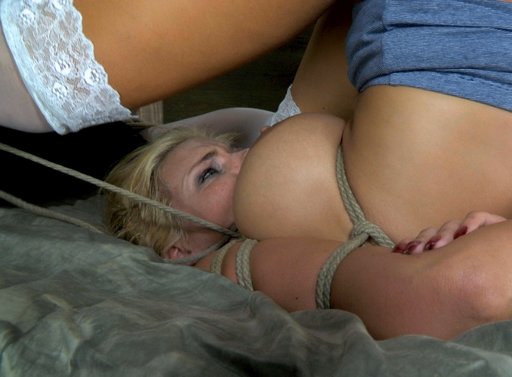 Naturally enough we can't let the poor girl get bored, so Matt Williams, who has already deep-dicked her three different times and is, after all, only human, breaks out the big heavy vibrator to force another few orgasms out of her: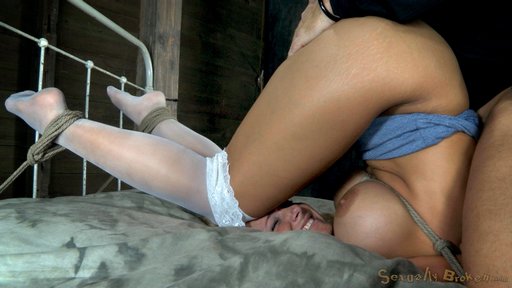 He's merciless and takes his time, so this is when we fade out, to the sounds of her helpless muffled screams of ecstasy…
Elsewhere on Bondage Blog:
You can
leave a response
, or
trackback
from your own site.