When I was young, there were a lot of "dirty westerns" floating around. They were pulpy western novels with lurid covers and a lot of sex inside. Cowboys and Indians catching and raping each other were not uncommon, and the favorite bondage method was inevitably described as strips of rawhide that would shrink and tighten the bonds as they dried in the hot desert sun. Sometimes four stakes for spread-eagled hands and feet would be involved; sometimes there would be an ant hill or a hot campfire between the legs. Did I mention the rapings? Fine litrachoor, this was not.
True rawhide is the untanned skin of dead animals. When you dry a fresh hide, it does indeed shrink mightily; for this reason a fresh animal skin intended for tanning or further use is typically dried on a form or stretcher to prevent the shrinkage. In the dirty westerns, our heroes and villains were taking strips of already-sun-dried and currently-shrunken rawhide, soaking the strips in a bucket or a stream to make them wet and supple again, stretching them out, and using them for the bondage. The strips would supposedly shrink again as they dried, making the knots tighten and the bondage inescapable.
True rawhide also has a tendency to rot and stink, because it hasn't been tanned (preserved with chemicals). But minimally-tanned leather (enough to prevent rotting, but not enough to improve the texture much) is often sold as a commercial product. Rawhide boot laces, for example, are not unheard of; and The Stockroom sells rawhide lacing in six foot strips for "binding, bootlacing, making loops for hanging toys, or whatever else you can think of."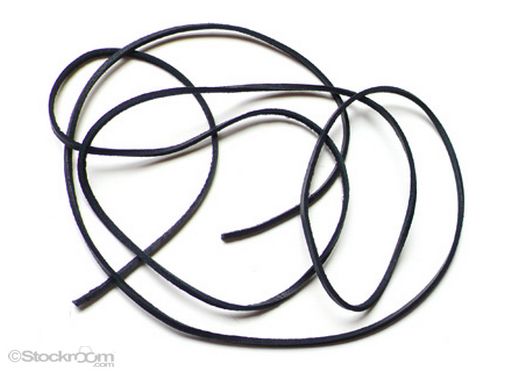 Some anecdotes turned up by Google suggest that modern commercial rawhide products lack the dramatic shrinking power of a freshly-drying animal skin. But all leather becomes more elastic and stretchy when it's wet and then shrinks again when it dries, so I'm sure there's at least a bit of bondage value in wet rawhide strips even if it doesn't live up to the historical fantasy. One thing's for certain; the shrinking power of wet rawhide remains large in the popular bondage-fantasy imagination! Consider this example, in Trip To Chicago by Jenny, where the shrinkage is dramatic and very rapid (much more so than in any possible reality):
He got a thin piece of wet rawhide and bound it around the base of my breast, turning it into a round ball that looked like it was stuck on my chest. The same procedure was done to the other breast. Now with very thin hide he bound each nipple — a bit of an effort as a lot of the nipple had been pulled into the breast by the first binding. But he managed it, causing me to gasp.

Then he made me sit on my heels while he bent my hands behind my back upwards to my neck, binding the wrists very tightly then binding down towards my elbows pulling them together. This was uncomfortable but bearable, the two round boobs now stuck out looking even more artificial. Now with a flat band of hide he lightly bound my neck from shoulder to chin. Several layers were applied until my head could not move and seemed to be stretched higher. A dog type collar with a D-ring was fastened around my neck. A further piece of rawhide was attached to the bindings that held my wrists, then threaded through the D-ring, which had the effect of pulling my already stretched and restricted arms up to my neck. He helped me to my feet and starting wrapping thongs around each shoulder and criss-crossing down my body, leaving a diamond pattern. As he went he pulled each leather throng just that bit tighter, almost cutting into my pale skin.

I was left by the fire. I asked what he was going to do now. He replied, "Watch you start to squirm!"

He went on to explain that the rawhide would soon start to dry out, and as it did, it would shrink. Almost as he seemed to finish talking I was aware of the binding tightening. I was sure I could hear it creaking! I think it was my breasts first, they were already too tight but now, Arrrrr! They were hurting, my nipples were going numb, but now the bindings on the body began to bite in. I was aware of my rib cage being crushed and the extra tight wide binding around the waist really was cutting in. The feeling in my neck was as if a clamp was exerting even pressure all around, it was not restricting my breathing but was making my face very red and my eyes bulge…
Do I need to say "Don't try this at home?" No? Good.
Elsewhere on Bondage Blog:
You can
leave a response
, or
trackback
from your own site.