If you've spent any time at all surfing the kinky web, you'll have fairly quickly found yourself at one or another of the many many sites that document historical restraints and torture methods, as applied to martyrs, suspected witches, criminal wretches of ancient times, and the like. Although there can be quite a lot of overlap with modern BDSM fantasies and tropes, I've never had — despite a few exceptions — a lot of time for that material; my sense of justice, love of due process, and empathy for the real anguish of long-dead victims of oppression tends to overwhelm any sexual frisson I might otherwise get from the tools of bondage under discussion.
One classic example is that infamous tool of the Spanish Inquisition, the so-called "pear of anguish". In its traditional form (and you can find photos of lovingly-wrought examples of this tool all over the internet) it was a simple screw device with three curved iron petals. Screwed closed, it was roughly the shape of a butt plug, or, poetically speaking, a pear. In this state it could be inserted in the anus, the vagina, or the mouth. And then, of course, the inquisitor would start turning the screw, causing the petals to be forced apart. Whether this caused "mere" pain or horrid disfigurement presumably depends on how far the screw was turned, but many of the historical examples have additional spikes attached, making it clear that avoiding tissue damage was emphatically not a priority. Not sexy, not to me.
But the idea of it has some play room in its memespace. If you had one that was well-machined of smooth steel, small enough to be inserted in the first instance with no greater trauma than any other butt plug or dildo, you could have some fun with it. But the machining, the complexity, the difficulty … nobody's ever going to bother with that, not for any project less vital than rooting out the dire menace that is witches in all of our cupboards. Right?
Wrong: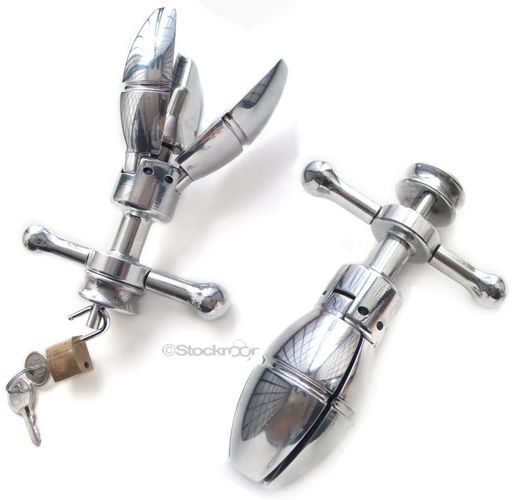 Not only has somebody started manufacturing these intrusive beasts for sale, they took the minor added step of making it lockable, so that it can't readily be removed by unauthorized persons. And — in a move I think clever, given the bloody horror at the historical root of these vicious little items — they are marketing it as an anal chastity "ass lock" device:
Sometimes, you want others to know that your ass is off-limits. One glance at the Ultimate Asslock in use will be enough to let others know move on – this ass is spoken for! Simply insert this steel piece of botany into your back door and widen its petals to blossom while inside you to achieve a truly unique feeling of fullness.
[Update: Sadly, it's no longer for sale.]
Elsewhere on Bondage Blog:
You can
leave a response
, or
trackback
from your own site.