A 1943 movie that probably isn't as much fun as it sounds: Girls In Chains.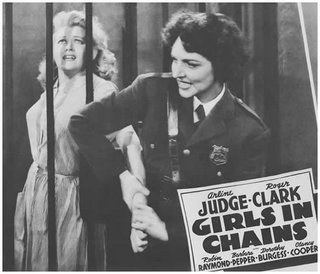 Plot summary sounds OK though:
When Ruth Martin is discharged from her teaching position because her sister is married to a notorious criminal (who is basically running the city), she accepts a job at a girls correctional facility. Her intent is to try and prepare the inmates for a better life once they are released. Ruth runs up against the supervisor (who is controlled by her brother-in-law) who is only interested in skimming money off the budget and his gang of matrons who only want to keep the girls in line doing laundry.
Elsewhere on Bondage Blog: