One of the fantasies they have a lot of fun with at Device Bondage is objectification — taking a lovely model like Jade Indica and turning her into a helpless, available (and silent!) sex object. Although I've always suspected that this fantasy appeals most to men who just "don't want to deal with the bullshit" — they enjoy imagining the opportunity to play with a helpless fucktoy who doesn't have to be engaged with on any human level — it really is one of those fantasies I'd much rather keep on the fantasy level, at least most of the time. It's about opportunity cost, really; once you tie up a woman so that she can't move or complain or even register disapproving facial expressions, you've got to deal with the fact that she can't move (for your pleasure and hers) or speak (things you'd enjoy hearing) or show you her pleasure (in her facial expressions). So, for me, it's more fun to imagine than to actually do (most of the time).
Moving rapidly along, here's Jade in her street clothes, right after the imaginary snatch from a dark alley: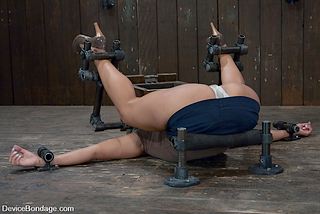 From another angle you can see that they've got her head in a box: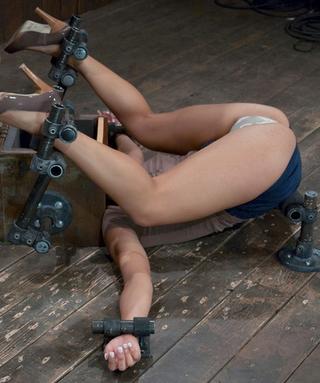 From there, it's only a few short steps to helpless sex-object paradise. A few snips at the panties with a pair of scissors, put the lid on the box, and voila!
Elsewhere on Bondage Blog: