Madison Young, whom we usually see here on Bondage Blog in an attitude of blissful submission while buried in stringent rope bondage, turns out to have a "tough bitch" side. Here we see her giving a most credible stink-eye to Karrlie Dawn, just before kicking her ass up one side the ring and down the other in a rough naked-wrestling match at Ultimate Surrender: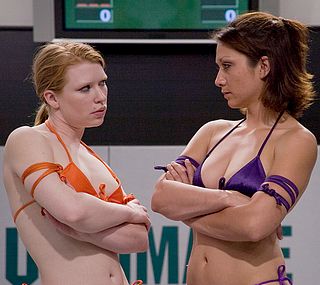 The thing never to forget about the Ultimate Surrender girl-wrestling matches, however, is that it's a winner-takes-all sort of contest. Specifically, you don't want to lose, because the winner gets to do, well, pretty much whatever she wants, to the loser. Here's a humiliated Karrlie Dawn with her wrists tied and suffering an all-girl version of the old "fate worse than death":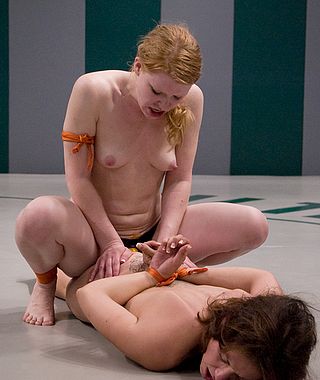 Do you suppose Madison Young was in a mood to lube that dildo before she rammed it home?