The next time your slave girl wheedles for candy, wouldn't it be fun to be able to give her some … and shut her up … at the same time? Well, now you can.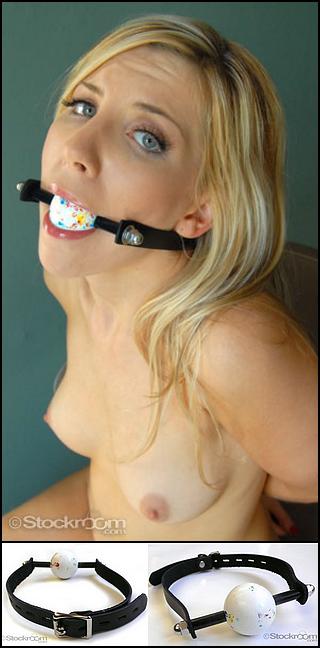 As bondage toys go, of course, the Jawbreaker Gag is not especially safe; candy leads to drooling, and some people have a harder time with that than others. The Stockroom says: "For novelty use only. Actual use can cause heavy salivation which can lead to choking. If used wearer should be upright and monitored heavily. Do not use while in any position other than upright and make sure wearer has hands free and is able to remove gag themselves."
Meanwhile, I myself am concerned that sometimes, when a girl has not been as sweet to you as the house rules require, you don't want to reward her with fun candy flavors. True, a modified nylon dog chew-bone can serve in such situations, especially if you buy the ones that have been impregnated with a permanent flavor designed to appeal to dogs; I've seen "fish" and "chicken" but sadly, never "roadkill". Practically speaking, though, your options there are limited. But what if you were to modify this jawbreaker gag? Anything you can dissolve in sugar, you could paint back onto this gag and allow to dry. With creative layering, you could become the Willy Wonka of silent slavegirls with suffering palates and sticky boobs!
Elsewhere on Bondage Blog: