This statue, The White Captive, is by Erastus Dow Palmer and resides in the Metropolitan Museum of Art in New York. There was an era in which there was much public interest in lurid tales of white women being carried off into squalid captivity by "wild Indians"; this statue is from that era and is intended to represent such a captive woman: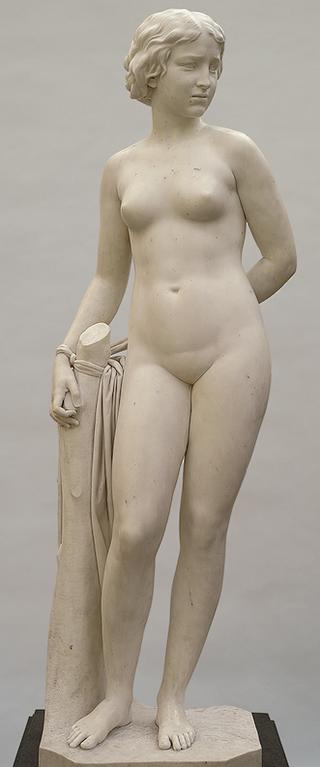 The Museum says of the statue:
It portrays a youthful female figure who has been abducted from her sleep and held captive by savage Indians. Hands bound, and stripped of a nightgown hanging from a tree trunk, she turns her head away from the terror, and clenches her left fist, in defiance of imminent harm. Palmer avoided the often cold appearance of Italianate Neoclassical sculpture, in part by using for his model a local girl. He was particularly commended for his use of a "thoroughly American" subject that makes a conscious allusion to the endless skirmishes between Native Americans and white pioneers.
Elsewhere on Bondage Blog: