If you read a lot of "subbie girl" blogs (that's my internal shorthand for blogs written by submissive women, no matter where they are on the lifestyle spectrum between "he spanks me on his birthday, not fair but I love it!" to "24/7 chained in the septic tank and and if I were only a better slavegirl it would be licked clean by now") you'll notice that they seem to get an enormous amount of "you're not doing it right" comments: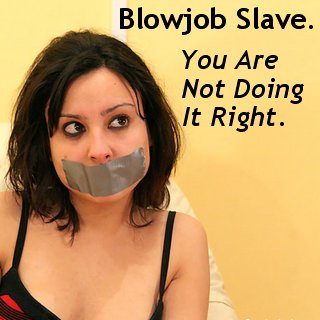 I honestly don't know what the fuck is up with that, although I suspect it has something to do with these constructed terms in BDSM (terms like "master", "slave", and even "submission") that each of us has to construct for ourselves because there's no accepted "social consensus" meaning. So you've got a bunch of people throwing around words that have intensely personal meanings, but none of the meanings are the same. Mix together folks who are still trying to construct the meanings for themselves with folks who have "made up their mind" and are trying to get their meanings accepted as the social consensus, stir in a dose of youthful hubris and a dash of internet anonymity, and you get "you're not doing it right" blog comments.
Or, at least, that's my theory. This post was inspired by some comments Kaya's master made on the phenomenon:
One thing that I find hard to swallow at times is that someone can come on here and read the blog and make a snappy decision that we are or are not doing it right. That I am or am not a good Master/Dom and she is or is not a good slave. If this blog was a book, it would be like the readers only get to read maybe one or two pages of each chapter, when each chapter should consist of scores of pages. That's not enough to make judgments like this one.
I'm torn by that remark. At one level, it's manifestly self-evident. You can't get a fair picture of someone's lifestyle from dipping into their blog. Not only are you only getting one or two pages from each chapter, but most blogs don't have all the chapters, and most readers don't start at the beginning and read all of the ones that are there. So "you're not doing it right" comments are both unfair, and silly.
But, and here's why I'm torn, it's important to remember that judgment can be both an internal action and an external communication.
Judgment in One's Own Mind
The first part of judging is almost involuntary, and cannot (should not?) be avoided. Is this a blog I want to read? Is this a blog I want to link to? Am I comfortable with what's going on, on this blog, comfortable enough to want these characters in my mental life? How do I feel about recommending these writings to other people?
You can "reserve" this kind of judgment to an extent, and read more while you make up your mind, but it's not always healthy to do so. Besides, you've got to make up your mind eventually, if your participation (even as a reader) is going to be more than the shallowest sort of voyeurism.
Sure, it's not fair in some abstract sense to make this kind of judgments on the basis of such shallow data, but it's the only data we've got. Judgment is, accordingly, both necessary and inevitable.
Judgment As Communication
Here's the secret that many "netizens" have not yet learned: it's possible to keep one's judgments to oneself. Telling myself "I don't want to read that guy's blog, his view of women is really twisted" is one thing. Telling some happy submissive woman on her own blog "you're a terrible slave because you don't powder your master's balls with corn starch after you suck him off" or "you never seem to recite The Twelve Mantras Of Perfect Submission, are you sure you're A Real Slave Girl?" is just rude, plus, it makes the commenter look stupid.
The "rude" part should be self-evident. It's not a matter of phrasing, either. No matter how politely you put it, anything that communicates "you're not doing it right" is rude. It's the expression of the sentiment that's rude, not the words you use. (Saying "no offense" does not help; the offense is inherent.)
The "stupid" part is explained by Kaya's master's observation: You just don't have enough information about other people on the internet to be confident in the negative judgments you make about them. Sure, you've got to judge in the privacy of your own head — we can't not do this — but you should always be aware that you're doing so without enough info. Which means, yeah, it's "stupid" to open your mouth and say anything that might expose your (almost certain to be) wildly inaccurate judgments to a broader audience.