This pussy slave (note the chin dildo) must not have performed up to expectations, because she's shackled to a bed frame and getting a riding crop applied very intimately: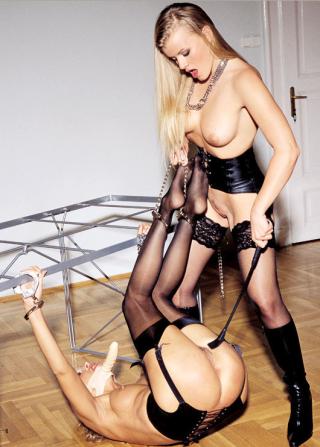 I thought this picture looked very familiar when I saw it, so I tracked it down to the April 2004 edition of Hustler's Taboo magazine. Taboo has always had some of the most stylish (not to mention downright dirty) fetish photography in print, but sadly they are hard to find even when they are brand new and hot off the presses. Back issues can only sometimes be found online, where they are thinly traded at great cost.
Fortunately for you, a good selection of pictures from each of the main photosets from the last three or four years of the print magazine are available to members of the Hustler's Taboo website (which incidentally makes that site a heck of a lot better deal than most pay sites.)
Update: Since I first posted this I've blogged quite a few other bondage pictures from Taboo. Click the following link for more Hustler's Taboo magazine posts at Bondage Blog.
2018 update: The Hustler's Taboo website itself is now part of the Hustler Network, one of these one-low-price all-you-can-eat porn buffets. The digital magazine offering now includes complete magazines (not just select photosets) and other titles (Hustler for instance). In late 2018 there are about 65 Hustler's Taboo issues dating back to 2010, which strikes me as an incredible value for one join.
Elsewhere on Bondage Blog:
You can
leave a response
, or
trackback
from your own site.