I'm late to this party, but what the hell. The picture is from the BBC, no less: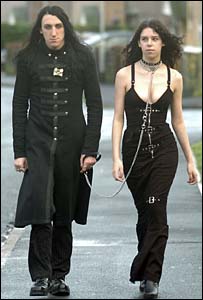 Unfortunately, this cute couple got thrown off a bus for public leashing:
Dog-lead goths 'hounded off bus'

A goth who leads his girlfriend around with a dog lead and collar was stopped from getting on a bus amid fears for passenger safety, a bus firm confirmed.

Dani Graves, 25, and his fiancee Tasha Maltby, 19, of Dewsbury, West Yorks, claim they have been discriminated against by bus firm Arriva Yorkshire.

The black-clad couple said they had been told to leave one bus and prevented from boarding another.

The bus firm said safety came first, but it was investigating the complaint.

Mr Graves told BBC Look North: "We're used to strange looks, we're used to comments.

"But we didn't expect it from someone like that. They're providing a public service. We had our bus passes, we did everything that you are supposed to do to get on a bus."

Miss Maltby said she came up with the idea to wear a dog lead, and said previous boyfriends had called her a "weirdo" when she suggested it.

The couple said they "loved each other to pieces" and the use of the lead was a "sign of trust".

Mr Graves said: "She's very animal like, she's kind of like a pet, as well as a partner."

…

Bus operator Arriva claimed other passengers could be put at risk if the bus braked sharply.

…

"Our primary concern is passenger safety and while the couple are very welcome to travel on our buses, we are asking that Miss Maltby remove her dog lead before boarding the bus.
Elsewhere on Bondage Blog: