One of the things I like most about the new breed of "real" bondage sex sites like Sex And Submission is that they aren't afraid to show the models getting a little bit mussed. Porn used to be big on starlets with hair and makeup "just so" who never showed so much as a droplet of sweat no matter how vigorously they were boinking for the camera.
Whereas, when a Sex And Submission model like Devaun is getting boinked, she looks like she's getting boinked: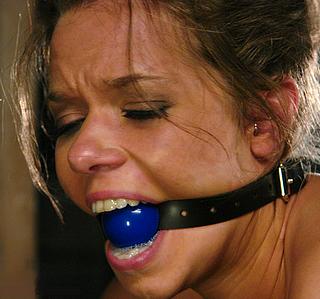 Which is just as it should be! Tied hand and foot, anal hook inserted and tied off to the overhead, thoroughly gagged, and with big buff bastard Mark Davis pounding away doggy style, you'd expect a lady to look a little bit mussed. Poise, composure, and a perfect coif are generally casualties in that sort of situation.