I am delighted to announce that there's a new site from Kink.com called Device Bondage. This site is a dream for folks who have dungeon envy. It looks like they turned their most industrious riggers loose with an unlimited budget for iron, steel, and aged heavy timbers, and the result is some of the most incredible dungeon furniture you've ever seen, graced of course by the usual lovely models in the strictest imaginable bondage: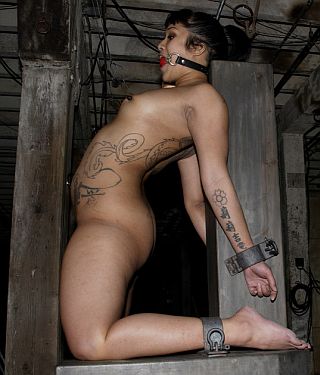 A lot of the "devices" they've built remind me strongly of the dungeon devices drawn by Georges Pichard, who was particularly fond of drawing steel and wooden tools of torment as heavy and punitive as possible: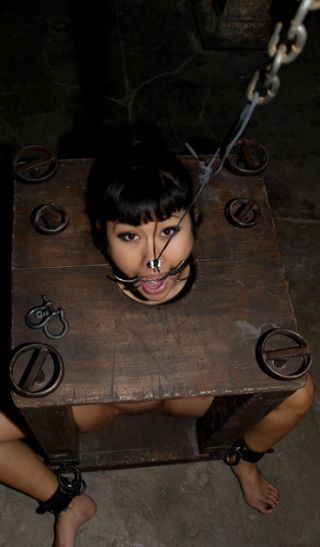 But of course this is Kink.com we are talking about, so they never neglect the little details of care and comfort (spider gag and nose hook) for their models: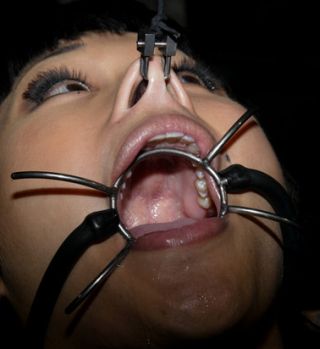 If the gritty and strenuous feel of Device Bondage reminds you of the infamous gone-but-not-forgotten Insex.com site, there's a very good reason, as explained in their press release as published by AVN Online:
Kink.com has launched its 10th site: DeviceBondage.com, a showcase for the work of acclaimed fetish director Cyd Black.

Previously at Insex, Black moved to Kink in October 2006 to oversee the development of the site and the concept. A talented and experienced rigger, Black is known as an innovative creator of bondage restraints from original wood, leather, and metal devices.

"I have been a lifestyle player and performer for 12 years; the last 7 years professionally as my full-time occupation," Black said. "I am very excited about making my visions available to members of the Kink.com audience."

Like Kink.com's other sites, DeviceBondage will contain weekly updates of exclusive, original, movie-like content concentrating on well-known models engaged in bondage. On March 17, DeviceBondage also will launch live coverage of a shoot in progress, allowing members to watch and interact throughout the four-hour process of creating a 40-minute weekly update.
I must say, the new site looks very promising!
(More here.)
Elsewhere on Bondage Blog:
You can
leave a response
, or
trackback
from your own site.