A bondage fantasy image that has appealed to me since I first read about it is the image of slavegirls suspended by hands and feet from the same suspension point, with their faces between their legs above their exposed pussies. I first came across this idea in one of the "Taming Of Sleeping Beauty" books; if I recall, it was a barnyard punishment tie (of course, as it's an extremely strenuous position) and the girls were further tormented by the brushing honey on their ticklish bits to attract flies and create unsatisfied arousal.
Here, from Hogtied.com, is a girl in this bondage position. Obviously you need a flexible slavegirl: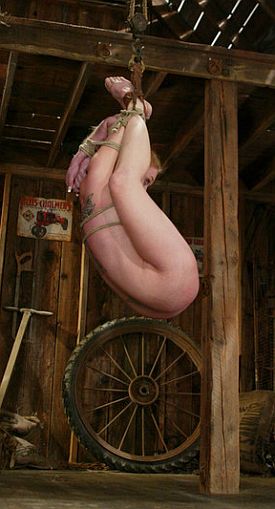 Elsewhere on Bondage Blog:
You can
leave a response
, or
trackback
from your own site.