The Bondage Blog motto ("Taking Pleasure In The Beauty of Restrained Women") is, obviously, biased toward sexual bondage, although not eschewing more ethereal aesthetic pleasures. If you were in any doubt, my fondness for images depicting, hinting, or at least allowing for bondage sex ought to put that doubt to rest. But of course I am a bondage fetishist, and I like bondage images of all sorts. Still, there's a danger of forgetting some of the reasons women sometimes cite for being tied up (and anything women like, there's a man who has fetishised that too).
One of these "why I love bondage" reasons turns out to be the sense of safety and security some people find being cocooned in restrictive, full-body, encasing bondage of various sorts, whether it's fetish clothing, pallet wrap, or huge and expensive vacuum-operated rubber bondage beds. And that full-body bondage is one of the unique specialties of the House Of Gord, from which this picture comes: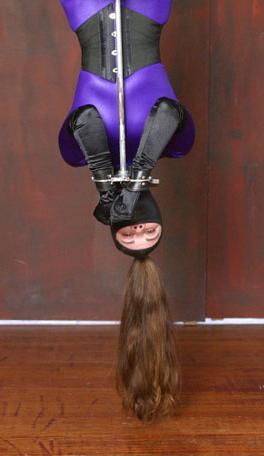 One thing I like about this photo is the way it leaves all of her beautiful hair free to be played with, tugged on, braided into yet another restraint… if you like luxurious hair, you'll think of something.
You can
leave a response
, or
trackback
from your own site.