This is clearly supposed to be a scene from Inquisition days — and the lady bound to the wheel is presumably being put to the question on suspicion of being a witch. But I'm not sure I fully understand the purpose of this bondage wheel: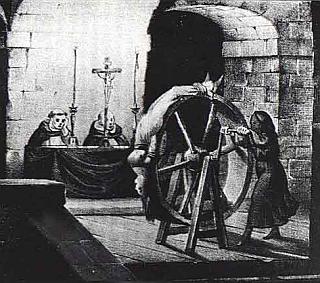 It's large enough that any tortuous aspect shouldn't derive from the backward curve of her spine, and it doesn't appeared to be geared so that she could be spun fast enough to generate extreme misery from motion sickness and nausea, unless that inquisitor really puts his back into the cranking (and clerics of the era were not known for their love of hard work). I'm sure being rotated on that thing would be deeply uncomfortable, but it seems suspiciously mild by the standards for which the Inquisition is notorious. It looks more like something that would be fitting for a play dungeon, not a real one. Anybody know what it was supposed to be for?
Elsewhere on Bondage Blog:
You can
leave a response
, or
trackback
from your own site.