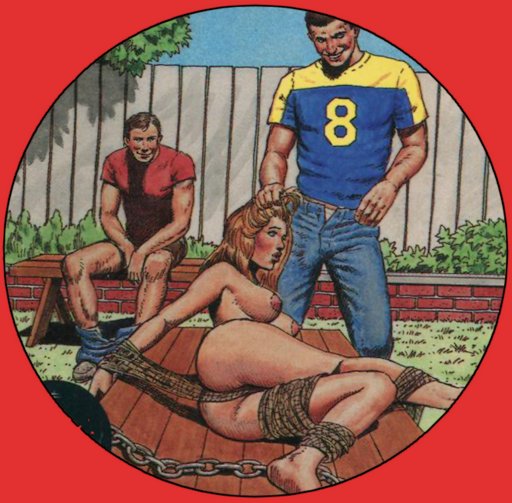 The following scene describes what it's like when the corrupt manager of a football team promises one of his players that he can fuck a cheerleader if he plays well. And because the cheerleader in question is chained to a fence, neither the manager nor the player worries at all how the cheerleader feels about any of this:
"Get away from me!" she cried, knowing it would do no good. The sight of the chain-link fence that separated their lockers from the property room gave her an idea. If she could get into the property room, she might be able to lock the gate and keep this cock-sporting football player away.

The terrified girl ran to the chained gate. She rattled futilely at it, a cold feeling growing in the pit of her stomach. She realized that there would be no escape for her. Not now, not with the football player getting into the spirit of the chase. To him it was nothing more than a little added fun.

She jerked savagely at the locked gate, knowing it wouldn't budge and yet having to try. Through that door lay her only hope of safety.

Tits bouncing, the ruddy tips tracing out sexy figure eights in the air in front of her chest, she turned from the locked gate and tried to evade the player with a quick end-run.

He was waiting for her.

The blonde ran squarely into his arms. She struggled but it did no good. He was too strong. The girl tried to kick him, her booted feet her best weapon. He hardly noticed. He was too heavily padded for her to injure enough to get away.

"Hey, beautiful, why struggle so much? This is going to be fun!"

She felt his prick force its way between her tightly clenched thighs. The idea that he could fuck her whenever he wanted robbed her of all dignity. She was only a piece of property to this man. She was his reward. He had done good and now he got to fuck her.

"She's all yours, Charlie," came Bradford's cold voice from the shadows of the semi-dark locker room.

In that instant, Debbie hated him more than she had ever hated anyone in her life. He was everything she loathed in the world. He didn't have a single human feeling in his body. His heart had been taken out years ago and replaced with a cash register. If the team won, he kept his job, maybe got a pay raise. If the team lost, he might be fired. Therefore, in his mind, it was all right to do whatever he could to keep the players happy.

Letting them fuck the cheerleaders was a simple enough reward, from Bradford's point of view. From Debbie's, it was stark terror.

"Get away from me!" she bellowed, hoping the player would get the message. The way his prick pulsed and jerked with added virile life, she could tell he was even more turned on by her fear than before.

"No way, beautiful blonde lady. I'm going to fuck you. I was promised and I'm going to have that tight little pussy of yours. I bet you've just been waiting for a stud like me, haven't you?"

His arms tightened around her trim body. He picked her up and tossed her against the chain-link fence. She felt the squares of wire cutting into her tender flesh. She moaned and tried to escape. It wasn't possible. She was helpless in his grip, nothing more than a trapped animal.

She groaned as he moved a little closer to her. His cock prodded the juicy lips of her pussy. She could hardly believe that the chase had turned her on. She felt nothing but stark, gut-wrenching terror, yet she couldn't deny the fact that her pussy was getting damp. She was starting to flow with oily fuck fluid just as if she were in bed with a man she loved.

This wasn't going to be fun, it was going to be rape — and she was as turned on by the prospect as if she were spreading her legs willingly for the man she loved. The girl was horror-struck and knew she wasn't supposed to be aroused. There was no denying the feelings welled up inside her cunt, though. She was hot for this football player's raping prick.

Confused, frightened, she didn't know what to do. The moment she stopped struggling the man found the warm, moist place he wanted to stuff his cock. His prick surged into her awaiting cunt.

"AIEEEEE!"

The entire world shook around her. She felt heavy hands pawing at her tender breasts. The titflesh flowed under those meaty fingers like putty. He was trying to rearrange her jugs into another shape. The harder he squeezed, the more resilient her tits became. They bobbed under his groping hand until she was breathless.

"Please, oh, sweet Jesus, please don't do this to me."

Her words said one thing and her body another. She felt the heat of his cock pressing into the tiny, clutching walls of her pussy. This was rape! She shouldn't enjoy it, but she was. She needed cock. The leaping and cavorting around as a cheerleader had turned her on. The feeling that the camera followed her every sexy movement outside made her hornier than hell. Now that real cock, virile cock, pushing repeatedly into her needy cunt was all it took to rob her of all her strength.

She went weak in the knees and collapsed down around the spike of hard manmeat rammed to the hilt up her pussy.

"See, you like it," the player gloated. "And it gets better. Just wait till I really get to fucking. Shit, baby, you have the tightest cunt I ever felt around my pecker. If I didn't know better, I'd have thought you were a cherry-carrying virgin!"

The man spoke for his own benefit. He wanted to hear those words to get himself really turned on. The effect on Debbie was much the same. The feel of his prick sliding easily back and forth in her cunt thrilled her. The heavy hands mauling her soft, fleshy tits were enough to make her breath come in tortured, sharp gasps.

Her legs spread a little more, almost of their own volition. She felt wanton and sullied. She was filthy, dirty, perverted. A good girl didn't let a man rape her without struggling. But she was helpless and she knew it full well. There wasn't any way in hell she could hope to fight off this burly football player. His cock was only an indication of his true size. Sure, that prick was long and it filled her pussy to overflowing, but it was his strong hands on her tits that really held her pinned against the chain link fence.

He fucked with longer, more powerful strokes. She moaned every time his prick blasted into her seething interior. Her cunt walls clamped down hard on the male invader, trying to hold it inside. She was turning greedy. She wanted it all and she wanted it now.

The pain from the fucking almost pulled her attention away from the pleasure of the cock fucking her. The girl's back was criss-crossed with the pattern of the chain link fence. Her butt, still not recovered from the whipping given it by Bradford, throbbed and ached horribly. But the friction of the cock fucking her juiced-up pussy was enough to soothe her, to warm her belly and to excite her to the point of climax.

"No, no," she moaned, "don't do this to me."

She said those words but deep down she wanted more of his cock. Wrapping one slender, white leg around the man's waist, she pulled him a little deeper into her cunt. The feel of his bell-shaped glans digging deeper and deeper into her soft yielding cunt pushed her over the brink of orgasm.
She came.

But the man wasn't satisfied with the fucking. He obviously wanted more. She felt him lifting her up with one impossibly strong arm. Something rattled and she felt links of chain circling her lift wrist. Struggling failed to free her hand. Bradford had chained her to the fence. Twisting around, she attempted to keep her other hand free. She failed.

She was chained spread-eagle to the fence. What was worse, the man's prick slipped from her hungry pussy with a lewd, juicy plop. Empty inside, abandoned and chained to the fence, she simply hung there. Never had the girl felt more forlorn or humbled. The blonde's feet failed to touch the cold concrete floor by almost two inches. Her entire weight was suspended by her arms and shoulders.
Already, they had begun to ache under the strain of her weight.

"Why are you doing this to me?" she asked. "Why me? What have I ever done to you?"

Bradford stood looking at his handiwork. He checked the chains and the locks he had placed on them, insuring her imprisonment. He smiled and said nothing. That was worse than if he had boasted about her captivity, her helplessness. They both knew that she was his to do with as he pleased.

"Hey, let me get back in and get to fucking, huh, Mr. Bradford?" demanded the football jock. His cock gleamed in the dim fight of the smelly locker room. The cunt juice drying on his cock had turned it into a shaft of the purest silver. Visibly, as the cunt oil evaporated, his erection turned back into a throbbing alive, red cock.

"Let me hold one of her legs. We'll make sure you can really fuck into the tightest possible pussy," said Bradford, casually grabbing one of Debbie's white booted feet and pulling the leg up.

He held her so that her leg was at a right angle to her body. She hung, suspended from the chain-fink fence, her bonds rattling as more and more weight was applied to them. She began to feel the full effects of the degradation.

Her pussy was obscenely exposed to the man wanting to fuck her. Her blonde-rimmed pussy trembled with fear at the impact of the man's cock. The way Bradford held her leg insured the tightest possible cunt to drive into.

"Yeah, that's more like it," the player said. He grabbed Debbie's other foot and tucked it under his arm as if it were the football and he didn't want the other team to ever strip it from his grip. He moved forward. The girl had to close her eyes. This was too horrible to be happening to her.

She felt the strain mounting in her shoulders. The cold metal link grating behind her cut mercilessly into her soft, white flesh. The way her legs were spread kept her from struggling. But even a token protest wasn't possible for her.

Hands and feet immobilized, she was completely at Bradford's mercy. And the man had no mercy whatsoever. He laughed aloud as the player moved into the widespread vee of her thighs and pushed his cock back into her small-diametered cunt.

Debbie felt she was going to be ripped apart. The cock drove in fast and hard. She felt the plum-tipped cock spread her pussy lips and then explode all the way up into her guts. The friction burned at her cunt walls. She trembled like a leaf in a high wind. The pain rose in her body from the twisted, contorted position, but still the man shoved his cock deeper into her belly.

"Stop it!" she begged. But it did no good. She could tell by the look on the man's face that he wasn't going to stop fucking her until he came. He was too far lost in the wonderland of lust for that.

His hips pistoned in and out, sending his cock raking along the tender walls of her cunt until she wanted to die. This wasn't the way fucking was supposed to be. It was supposed to be tender and passionate and slow and wonderful. This was quick and brutal and she had never felt more abused in her young life.

The player's hands probed the most intimate portions of her body. While her leg remained under his arm, his hand explored her asshole. A finger traced her tiny anus and drove hard and fast into her shit chute.

She screamed — and she got off on it. The orgasm crushing her body was totally unexpected. The girl hated herself for being so weak. It seemed as if any sex, no matter how she got it, was all right with her body. The feel of the man's finger exploring her asshole should have turned her off entirely. This was rape. This was brutal. This was degrading.

She came again.

Everything conspired against her. The pain that should have prevented, her sexual pleasure somehow added to it. She had something to compare the ecstatic pleasures of a cock reaming out her seething hot pussy to. The pain built up and actually got her off again.

"I … aaaieee!"

Her body quivered and she lifted her hips in a vain attempt to jam her snatch down over the man's impaling spike of hard cock. The way she was chained and held by the two men prevented much motion on her part. But it did spur the man to a faster tempo. He fucked her with long, powerful strokes that set her innards on fire.

"More, give me more! I hate it! I hate you both! And I want more!"

Bradford laughed harshly. She barely heard him over the pounding of her own pulse in her head. Temples throbbing like the beat of a drum, she knew she was far gone sexually. The man fucking her began to diddle himself with the finger that was stuffed all the way up her ass.

"Hey, damn, this is fucking great!" he cried. "I can feel my cock through her guts. She sure as hell is a tight and hot bitch! Wow!"

She cried openly now. The conflicting emotions ripping her apart inside added to the power of her comes. The man's prick got her off again and again. She couldn't control herself. Pain built up in her body. The way her legs were being harshly yanked apart compressed her cunt around the man's cock. She knew he was going to rip her apart with that fleshy sword.

He didn't.

What he did do was fuck her until she came like a human machine gun! Again and again she came, until she hardly realized she was smashing herself back against the chain-link fence. Her legs were kept too wide for her to do much else but bob up and down in an attempt to get more cock into her greedy little pussy.

Her actions were further guided by the thick finger jammed all the way into her asshole. The man drove his cock over the tip of his finger, only a thin membrane separating his digit from his hard-fucking cock. And when he came, it seared her guts as if he had spewed acid into her captive twat.
From the 1980s stroke book Chained Cheerleader, by Robert Vickers.
Elsewhere on Bondage Blog:
You can
leave a response
, or
trackback
from your own site.