About eleven years ago I posted little cropped versions of two delightfully ridiculous Orientalist harem bondage art scenes from the 19th century, painted by Ferencz-Franz Eisenhut. Both paintings feature wooden bondage stocks, although in one case, the stocks are merely lying unused as set dressing in the foreground.
Back then, I couldn't find large nice versions of the paintings. I asked readers for links, and though it took almost five years, y'all came through. Click these uncropped small versions for the humongous high-resolution examples: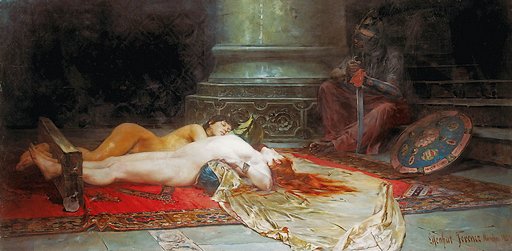 The art above is called Before Punishment and shows two nude harem slaves locked in wooden foot stocks secured with a padlock. The punishment, it suits me to imagine, will perhaps be the infamous foot caning sometimes known as falaka or bastinado.
The Orientalist bondage art below is called The Pasha's Concubine and the woman featured in it is dressed in considerable finery. But her wrists are bound and she languishes under guard on a luxurious pallet. More severe bondage is, for her, a threat that's literally not far away. Heavy wooden stocks can be seen in the foreground of the painting, less than a body-length from where she lies: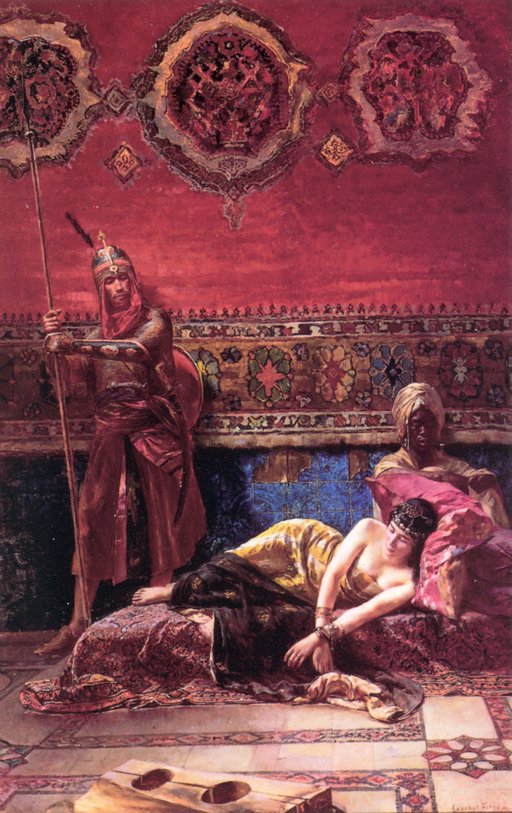 Elsewhere on Bondage Blog:
You can
leave a response
, or
trackback
from your own site.