Look, I'm not getting any younger and neither is your cock. I hear you saying "I guarantee you there's no problem" like the man with the tiny fingers, and friend, I believe you. Dick rigidity is far from the only key to sexual pleasure anyway. But everything else being equal, a harder dick is always better; and if you're a BDSM top, having plenty of rigid authority in the dicking department can reinforce your overall authoritative presentation.
Knowledgeable men have known for centuries that cock rings offer a clever and (if desired) unobtrusive way to pleasurably enhance your firmness, rigidity, and size-as-experienced by the dickee. Rings work by a simple principle. During an erection, blood flows into your dick more easily than it flows out. A bit of constriction at the base, and the whole thing gets just a bit bigger, feeling tighter and firmer in the process.
The oldest-style "cock ring" of antiquity was as simple as a tightly-tied leather strap. But unless you were a Roman patrician with a couple of shapely bath attendants to gently shave your parts and carefully oil and lift and separate while wrapping and tying your package, you were very likely to get a pubic hair painfully caught. Yeouch!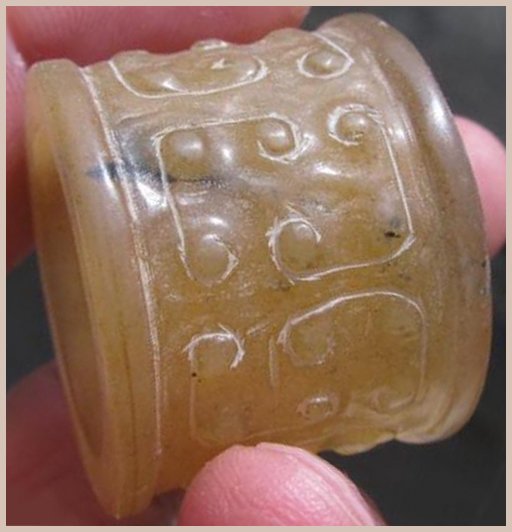 Carved rings of jade or antler or ivory or bone were also not unknown to antiquity. But using cock rings made of materials without even a little bit of flexibility could be risky. Remember that whole "erections lasting more than four hours" problem? It's not something you wanted to worry about, not back in the days when "surgeon" meant a guy with a bloody rag wrapped around the pole outside his barber shop.
Fortunately, we now live in the era of modern materials technology. We've had good sturdy flexible elastic materials ever since Charles Goodyear learned to vulcanize natural rubber in 1844, and with modern plastics and silicones, we now also have flexible materials that have surpassing attractiveness and durability (and don't smell like an inner tube). Cock rings these days are safe, easy to put on, comfortable to wear, and just as easy to remove again. What's more, vibrator technology perfected for compact discrete sex toys for women has lately been incorporated into cock rings. Not only does this feel good for you the wearer, but it can turn your dick into a *vibrating*dick* and delight your partner as well. Truly we live in an age of miracles!
Understand that this post here on Bondage Blog is not a review of specific products. Truly, I have played with a couple of modern cock rings and liked them, but innovation in this space has been rapid and amazing even in the few months since I did that. Check out this resource for a lot of up to date information and reviews. My point is that dominant men should not hesitate to adopt sex toys into their play that enhance their own erections and pleasure. And what submissive worth dominating wouldn't agree with that?

You can
leave a response
, or
trackback
from your own site.