The subtitle at Fantasy World is "Unlimited Control" and that sets the theme very nicely for this completely free rough sex and BDSM videos site. The banner invites you to imagine "a world with no limits" — a "place where you are the only lord." Bondage Blog readers will immediately feel right at home: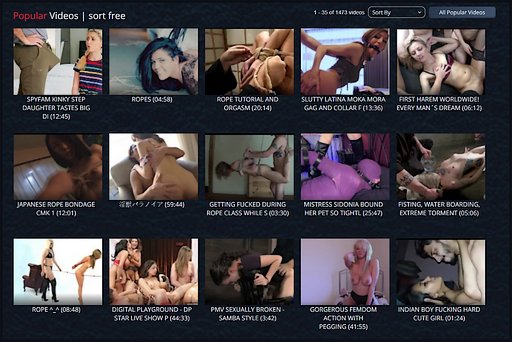 The dozen or so tag categories (Fantasy World calls them channels) into which the site's roughly 2000 movies are grouped further makes it clear that this is a site that's focused on raw fetish sex movies. "Bondage", "BDSM", "Rough Sex", "Fetish", and "Slave" channels are by far the most populated on the site. Even the "Hardcore" channel seems mostly to consist of heavy bondage sex and BDSM video clips. It's almost refreshing to find a video clipsite that sticks so closely to a BDSM theme! Most "tubes" these days try to be all things to all people. Unless you can be one of the ridiculous-huge ones, that's just impossible. Far better, I think, to do one thing and do it well. Find a theme and stick with it. Fantasy World has done just that.
Overall, I am pretty impressed with the breadth and selection of the free videos, too. There are kinky clips from all over the world, representing every kind of perverted (you know I use this word with love!) practice and fetish fun. I got rather distracted and diverted from the writing of this post by a clip from a British source (judging by the accents); in it, an extremely cute but not-very-well-coordinated submissive was being put through that traditional ordeal of being forced to walk on her tiptoes along a taught rope with many rough knots designed to catch on her clit and rub painfully through her tender pussy: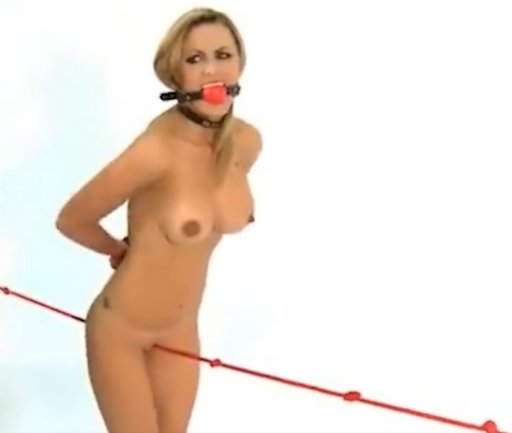 Slaves who have gotten too good at this game sometimes have to be taken down a peg by putting capsaicin cream on the knots. Really there's nothing funnier than a smug submissive who's bouncing down the rope, steeling herself against the sensation of the knots tugging as they pass through her labia. "Ain't I just the perfect little masochist?" Then, suddenly, her eyes widen over her gag. "Why is my pussy on fire?" Usually it takes some extreme whipping to get them over the last few knots after that…
No extra pain cremes were needed to make this little subby-bunny suffer, though. You could tell that just the rough scratchy texture of the rope was about as much as she could handle. More "model" than scene player, I'm thinking!
But I have allowed myself to digress. Fantasy World is a free BDSM-themed video clip site with a clear focus, a straightforward user experience (I didn't experience any popups or intrusive advertising), and a lot of movies that Bondage Blog users are likely to appreciate. Enjoy!

You can
leave a response
, or
trackback
from your own site.