If you've served your time on the pornographic internets for anything like as as long as I have, you'll remember the venerable porn link list. My own blog sidebars here at Bondage Blog arguably evolved from these; I think link links were the earliest porn websites that weren't just, you know, the porn on the page. As other pornsite concepts came and went, the link list has hung in there and refused to die. Sure, it has evolved and sprouted new features and add-ons, but it's still in its simple essence the handy list of places to go and look at porn that it always was. And just about the pinnacle of the art today in 2018 is the link list at ThePornDude.com: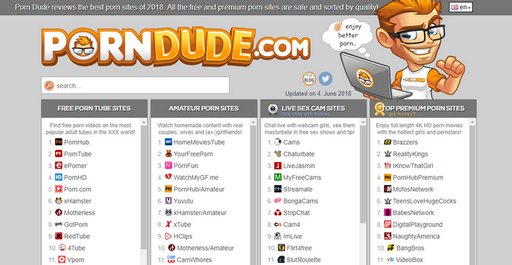 A substantial and extremely welcome innovation in the more than twenty years since I first saw a porn linklist has been the addition of onsite reviews to many if not most of the links. Hover your mouse over most of the links at The Porn Dude and a small clickable magnifying glass icon will appear; clicking that icon will take you to The Porn Dude's review of the porn link rather than to the porn link destination itself. This can be enormously convenient! One of my own fundamental principles of linking people to porn is to never drop them blind into a porn destination situation they were not expecting; I do my best to accomplish this with descriptive link text, but the link reviews are a huge step beyond that.
Something that's not an innovation (even the earliest link lists had them) but is well-implemented by The Porn Dude is the sorting of porn links by category. By my rough count the links are divided and sorted into about sixty-five different categories by topic, from "Amateur" to "Virtual Reality". The category listing for "Fetish Porn Sites" is probably of greatest interest to Bondage Blog readers, especially those of you looking for movie clips, being a content area I don't cover much here.
Also, if you've ever dipped a toe (or whatever ya got) into Reddit looking for porn, but found the place to be fucking overwhelming and hard to navigate, you might want to check out The Porn Dude's Reddit link category. It's called "Reddit's NSFW" and while I'm not enough of a Redditor to know how comprehensive it is, I can say that with 86 porny subreddits currently listed, it's a big enough dirty rabbit hole to lose yourself in for quite some little time. Some serious work went into building this part of the link list. Enjoy!

You can
leave a response
, or
trackback
from your own site.