Is it possible to find camgirls kinky enough to please your average Bondage Blog visitor for tips and tokens? It's been a little while since I looked into the state of BDSM camsites and bondage cams performances, but from what I can tell, the trend toward "free" cam sites and open-to-all-visitors tip-supported camshow performances has developed extensively since the last time I looked into this question. So I enjoyed spending some time looking at FireCams.com when they suggested last week that the site might be of interest to all of you, my loyal readers.
One thing I noticed right off is that there are a lot more cams performers advertising bondage shows and wearing kinky gear in their channels than there were the last time I went looking. Whether you visit FireCams itself or the Fire Cams mobile site, there are a lot of performers who are willing to be listed under very specific bondage and BDSM fetish keywords these days, like good phone sex operators always used to be "back in the day". Here, for example, were just some of the performers online listed under the "handcuffs fetish" category when I had a look: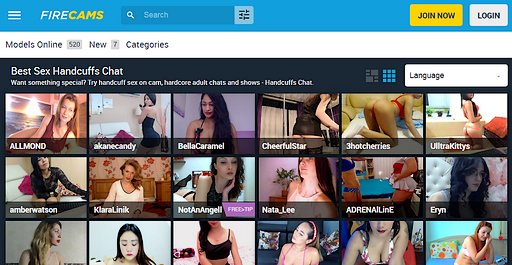 I didn't really have the time or the tokens to dig too deeply into the kinky performances available at FireCams, but initial appearances, at least, were somewhat promising, with a lot of fetchingly-draped leather and kink-oriented screen-names on display. SubmissiveBitch was typing aggressively and wearing a fond smile when I passed through her channel: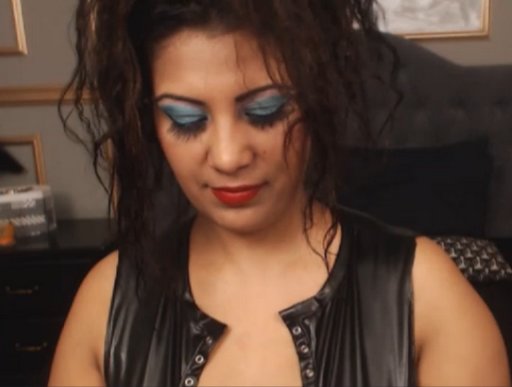 At first I thought she was typing in another channel, and then I realized she was deep in chat with a couple of channel regulars, so I didn't stay. But she, and they, were clearly enjoying some complicated sexting roleplay so intense they'd all forgotten about the camera, which I thought was kinda sweet.
Moving on, I found Kleeopatra here. At first I thought she was giving the world a free self-strangulation show, but in fact she was just removing and re-lacing her complicated leather choker neck-piece: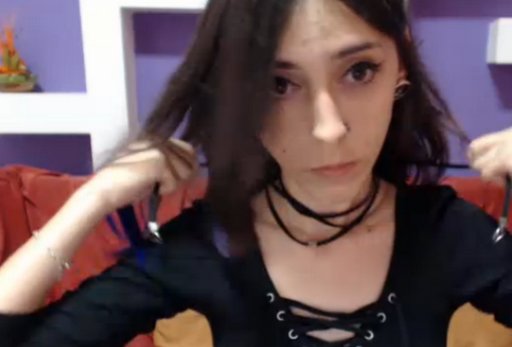 That was still fun to watch, though, especially when she got frustrated with all the tangled leather cords and started cussing. Several gents in the chat channel suggested that she would get further if she took off the bodice, too, and started all over with her lacing from the very beginning, but I guess there weren't enough tips along with the ribald suggestions, because she didn't in fact go there.
In total I spent about half an hour dipping and skipping through the free FireCams channels. I didn't tip anybody or take any shows private, so when I say I didn't see any serious BDSM roleplay going on or observe any heavy bondage gear in use, you've got to keep the free cams dynamic firmly in mind; getting to the good stuff usually takes more investment in time and tokens than I made. That said, there is a lot more "kinky vibe" happening out there than last time I went scouting for it. Which is good to see!

You can
leave a response
, or
trackback
from your own site.