It is my impression that the nascent craze for virtual reality (VR) porn — we're talking especially about the newest stuff that's designed for the spiffy and expensive eye-tracking VR headsets — has been slow to reach the bondage and BDSM porn markets. In part this is a conceptual problem. The best VR porn so far has been point-of-view (POV) stuff that puts you in the viewpoint of the (usually male) participant. When the porn performers are right up in the sex, that's frequently a compelling viewpoint, and one that's rather different from most mainstream porn (although POV stuff has long been an available niche). On the other hand, the point-of-view perspective of a bondage top or a sadistic dom inflicting a punishment, although pleasant enough, doesn't differ (as much) from the usual camera angles used to film BDSM porn. The upshot seems to be — and here I'm speculating far beyond my knowledge — that in the BDSM porn realm, VR technology is a solution that hasn't yet found its problem. It's a technology that may still be in search of its impossible-to-live-without "killer app."
I can hear you out there saying "That's all fine, Rope Guy, but Santa Clause is bringing me an Oculus Rift for Christmas, and the very first thing I want to do with it is to boot up some kinky porn. What's out there for me?"
Well, if that's your situation, you lucky perv, I have a site to suggest. You can begin your search for kinky virtual reality porn at VRPorn.com, which is a site that pulls together pretty much all the VR porn they can find, in whatever format. In recent correspondence they told me that they emphatically aim to include "virtually all the BDSM VR porn on the internet" and will be updating the site whenever new stuff is released. Meanwhile, the selection of bondage and BDSM porn they already have is bigger than I've seen at any of the other VR porn sites, leading me to suspect they've done a good job of aggregating what's out there: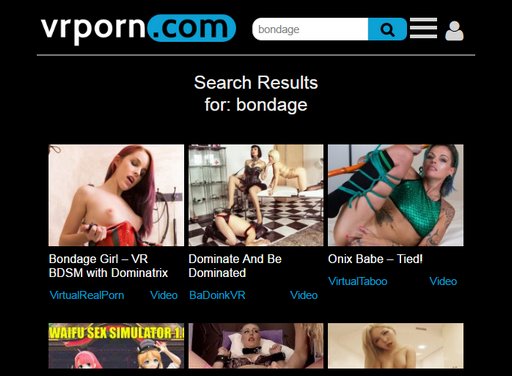 As the above screenshot suggests, VRPorn.com doesn't limit itself strictly to commercial VR porn movies. Although trailers and links to ready-to-buy movies are perhaps the heart of the site, they are a true aggregator, and they've assembled a wide variety of freely downloadable VR clips, games, and apps from a variety of sources, in the wildest profusion of hentai, anime, and western-CGI styles: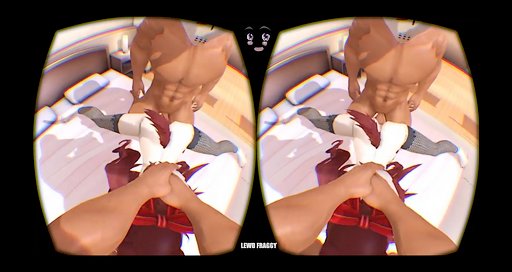 In roaming around the kinkier corners of the VRPorn.com site, I also came to realize that there's at least one kinky fetish that's already an excellent fit with the virtual reality format. Although we may all still be waiting for the innovative creative visual rethink that will make rope bondage or whipping porn extra-compelling in VR, in the realm of femdom I think you'll have to agree that leather-clad facesitting dommes are already making excellent use of the form: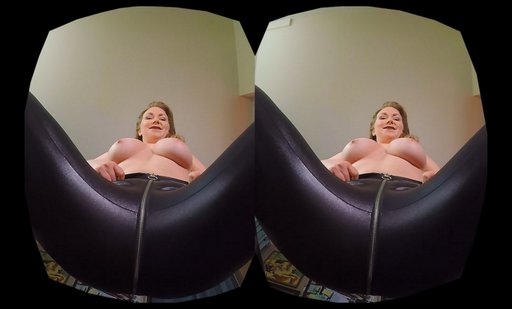 I have been a bad boy this year and I do not believe that Santa Clause will be putting a VR headset in my Christmas stocking. But if I'm wrong and if he does, I'll be at VRPorn.com before the kittens have had time to get bored with the wrapping paper.
Elsewhere on Bondage Blog:
You can
leave a response
, or
trackback
from your own site.