I think this is the first bondage cross (in the style often called "St. Andrew's Cross") I've seen that exists as a shippable product. Usually they are a built-in-place custom carpentry job made with heavy wooden beams, and finding a kink-friendly carpenter is no easy task in many parts of the country. Aluminum, famously, is much lighter for its strength than wood or steel (that's why they make airplanes out of it) and thus makes the New Cross X by Metal Bound a product that the Stockroom can reasonably offer: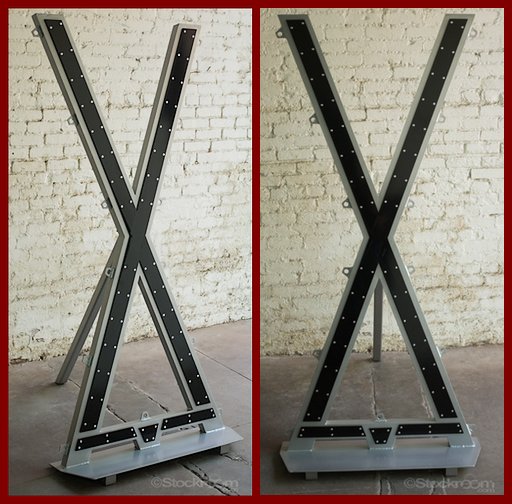 Here's how the Stockroom describes it:
Metal Bound's New Cross X is truly a work of art–and play! A free-standing base allows tops and bottoms to feel stable and comfortable. Special toe cutouts make it possible for bottoms to keep their balance during play, and multiple fully TIG-welded attachment points mean the options are limitless when it comes to your imagination. And with marine-grade aluminum construction, two-tone powder coat finish, and washable black leather vinyl, this piece looks and feels amazing.

Not just a St. Andrew's Cross, but a top-of-the-line BDSM product, fit for lovers and cross-enthusiasts everywhere.
Elsewhere on Bondage Blog:
You can
leave a response
, or
trackback
from your own site.