As any fool knows, there's nothing quite as secure as genuine steel restraints, whether they be handcuffs or shackles. But steel is hard and heavy and unforgiving, and it's easy to injure an extremity with steel bondage. So people "settle" for leather cuffs, which are also wonderful and secure, but don't quite have the same frisson of implacability.
However there's a product available at The Stockroom that appears to offer the best of both worlds. It's a set of rubber cuffs that are wrapped in somewhat flexible bands of thin stainless steel. They're called Steel Band Cuffs and to me they look just the thing for keeping your favorite captive secure in the basement for a long weekend: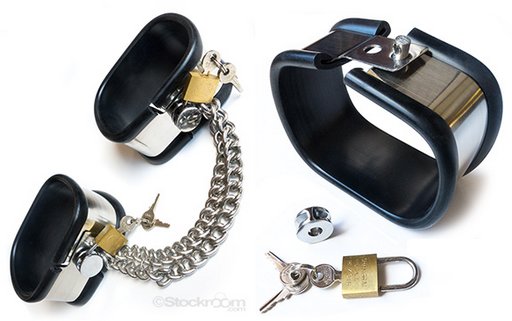 The Stockroom explains:
With the wrists of your partner locked in these steel-band cuffs, you'll find there's no end to the kinky possibilities!

Constructed of sturdy yet flexible stainless steel seated in a soft, comfortable black rubber backing, and secured together by a steel link chain and miniature padlocks, this set of quality bondage equipment from Rapture Novelties comes in either Small or Large sizes — and its versatility is limited only by your perverse imagination.

Unlike most metal handcuffs, these come with customization options: The bands are fairly malleable using hand pressure, allowing the user to mold their shape to that of the wearer's wrists. Approximately 1/2" of added circumference is permitted when latching the cuff at its larger notch. The chain length is also fully adjustable. If idle hands are the devil's workshop, then these sensuous shackles will provide hours of diabolical fun.
You can
leave a response
, or
trackback
from your own site.