More than ten years ago, there used to be a blog called "Cock Under Lock" that explored one man's submissive relationship with his wife. That's a long time ago and the blog's been deleted, but as I remember it, she mostly kept him in male chastity devices because she didn't like him wanking off to porn, except when she allowed it on her terms.
I was reminded of this today when I saw in the Stockroom catalog a male chastity device that didn't look all plastic and rinky-dink. I'm not submissive, but I figure if a dude's gotta be locked up, his junk ought to at least be kept in a serious-looking cage. The Bon4 Stainless Steel Chastity Device passes that test: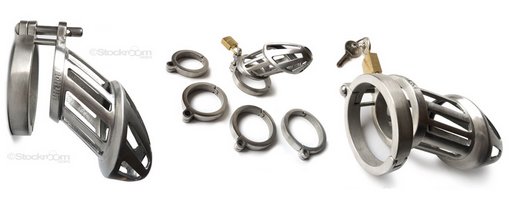 For those seeking serious male chastity, this beautifully crafted stainless steel cock prison from Bon4 is sure to deliver! Not only does this cage look great, it's also completely functional, giving you full control of your male submissive, wherever they may be.

This male chastity device comes complete with four different hinged back-rings, allowing you to find the one that works best for your needs.

Made with hygiene and comfort in mind, this device is not overly heavy and features ventilation throughout so you can easily clean up in the shower.
Elsewhere on Bondage Blog:
You can
leave a response
, or
trackback
from your own site.