At the Stockroom they name this the Spandex Hood with Blindfold and Mouth Hole but I have always just called it the blowjob hood or the suck hood: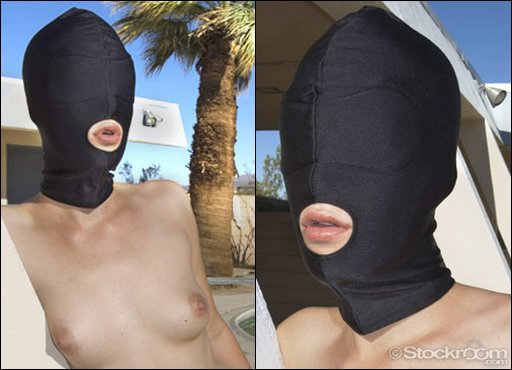 It's awesome because it's cheap and convenient (it folds up like a knit watch cap so you can just stuff it in your pocket), effective, and comfortable. Your blowjob slave can't see anything through the blindfold material built into the hood, but the spandex is light and breathable — even for the nostril breathing that will soon become imperative for your blind cocksucker. It's even easy to wash, afterwards, if you choose to be messy or if your slave is careless about slurping down every drop.
I find that there's nothing sexier than to make my submissive wear this hood when it's bondage blowjob time. She doesn't need to see to do a good job, and I don't want her distracted from her work. When this hood is on, there's only one thing for her to focus on, and that's just how I like it.
Elsewhere on Bondage Blog:
You can
leave a response
, or
trackback
from your own site.