Basic black barnyard leather with plain stainless or chromed steel fixtures has been good enough for generations of kinksters on a budget. But the rich are different! For hundreds of years they have pampered their human pets with the finest bespoke bondage gear, hand-made by pampered craftsmen and overpaid jewelers. Now some of that luxury can be yours (without the need for introductions at that snooty and exclusive little shop in London!) because The Stockroom has recently introduced a line of luxurious leather restraints lined with scarlet glove-leather and appointed with golden fittings: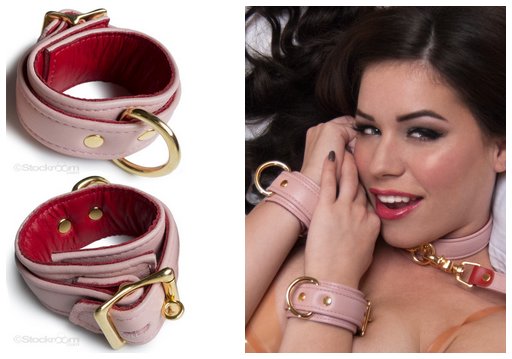 Pictured are the wrist cuffs, but as you can see in the photo, they also have collar, leash, and (not shown) ankle cuffs available in the same style. Perfect for the pampered (or is she spoiled?) slave in your life!
Here's the description of the cuffs:
Made from soft, vintage pink premium garment leather, with a lining made of scarlet glove leather, and adorned with 18k gold plated hardware, each set of wrist cuffs is assembled by hand in our Los Angeles workshop and is constructed from top quality leather and hardware.
Elsewhere on Bondage Blog:
You can
leave a response
, or
trackback
from your own site.