And speaking of shackles as we were in the last post, do you need some? Because The Stockroom sells some of the best steel shackles out there — oval for better wrist comfort, a nice primitive dungeon look, coated so they don't rust if your dungeon is dank or your slave girl habitually tries to pee her way out of trouble: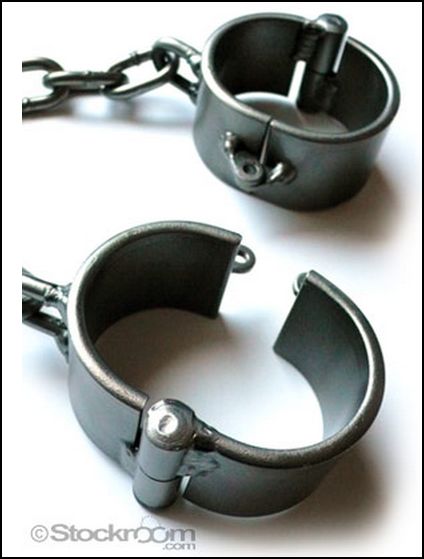 These Oval Wrist Shackles will securely hold your willing partner wherever you want them. Unlike most shackles that are circular, these restraints are oval shaped and fit better around your wrist ensuring longer comfort and longer wear. Each shackle has one hinge and room for an outside lock (not included). Joining the shackles together are 9 links of sturdy chain, securely soldered to the shackle, giving you up to a 9 inch span between your wrists.

Beyond the rigid comfort that these shackles offer, they are also covered in a smooth clear coat to prevent rusting of the metal to ensure a consistently comfortable wear and presentable appearance. Ideally paired with our Round Ankle Shackles, these high-quality restraints make a perfect set.
Elsewhere on Bondage Blog:
You can
leave a response
, or
trackback
from your own site.