A few days ago ErosBlog posted a really awful clip from 2003 Maxim called How To Cure A Feminist (and "turn her into an actual girl!") with the question "are the lad-mags still this bad?"
I guess they are. Here's a little bit of bondage, Maxim UK style: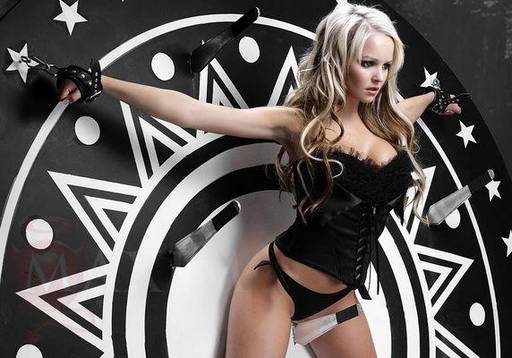 I don't mind the Barbie blonde with bad fake tits. I don't even really mind the loose cuffs she's about to fall out of. And the pose as pretty target for the knife-throwing act? It's been done, but it's a peril classic, it's all right with me.
But the big long knife lovingly placed in the photo with the blade a half an inch from her pussy? That's classic symbol transference and lad-mag misogyny. "We can't show a dick and we can't show her getting fucked right and proper, boys, but we can show a big knife all up by her pussy, and we can hint real hard that her nasty slit almost got cut. Heck, it still might if the bitch doesn't stand real still, and isn't that almost as good?"