I saw this extremely kinky furry/bondage/cannibalism panel at The People's Burro and it was so twisted, I thought it had to be from a vintage Wonder Woman comic: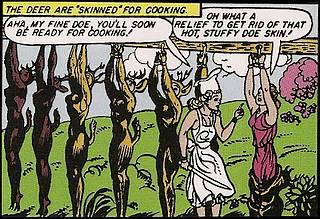 So I did a bit of looking, and sure enough, it is. And we aren't just talking about dressing up in deer suits for some bondage role-playing, either; they did the whole girls-as-animals hunt scene as part of a pagan festival, followed by ritual butchering, cooking, and eating! The dialog is amazing:
"You'll make a lovely chicken, darling, wait until I give you a crisp skin!"
"You make my mouth water — how about feeding me to myself?"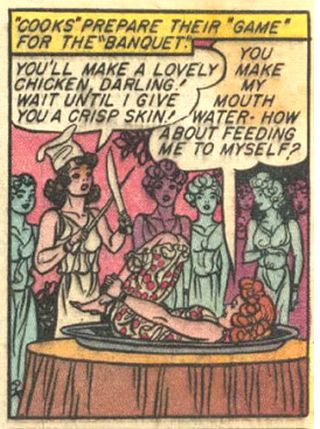 There are two more panels of this wonderful bondage cannibalism foodie madness. Awesome.
Elsewhere on Bondage Blog: