I was thrilled to get the word that Kink.com, the world's greatest bondage pornographers, are now sneak-previewing a new site (due to go live October 1) called Public Disgrace: Women Bound, Stripped, And Punished In Public. The site features public humiliation and BDSM on the streets of San Francisco — one of the few places in the world where, if you are reasonably considerate of others, the cops are cool enough to let you get away with filming a thing like that.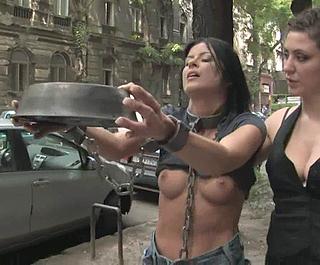 Here's the advance sales copy for the new Public Disgrace bondage site:
You may have come across a picture or a small clip of some public nudity or BDSM here and there, but this site takes it to a whole new level. PublicDisgrace.com will feature amazing footage of hot girls bound on busy streets, dragged and displayed — girls bound and sucking cock in public, tied up and ass-fucked for all to see.
Not to mention good old-fashioned public puppy-girl play: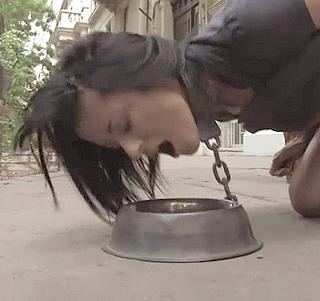 Interestingly, it looks like the humiliation aspect of the new site will be keyed to the models' natural shyness about being nude and chained and made to do embarrassing things (like eat from a doggie bowl) in pubic — Kink.com has never gone in for the extreme verbal humiliation and simulated abuse of their models that the gonzo porn people like to use, and I don't expect them to start now.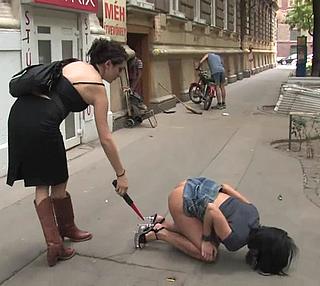 I find these screencaps from the teaser/trailer to be promising indeed. Poor slave! It's hard enough for a chained girl to lick smelly dogfood from a bowl in front of God and everyone, even without the added complication of somebody zapping her bare bottom with an electroshock rod. Jump at just the wrong moment, and her new nickname is gonna be Alpo-face!
Update: I am only speculating that this site will feature shoots in San Francisco; this first shoot, as several people have pointed out, was done in Budapest, Hungary, apparently another cool place or at least a place where the rules can be relaxed if you know the right people.