Kaya and her master play hard. There's no getting around that. Not that we'd want to.
The other day, she got tied to a chair and whipped. Here's her, tied to a chair: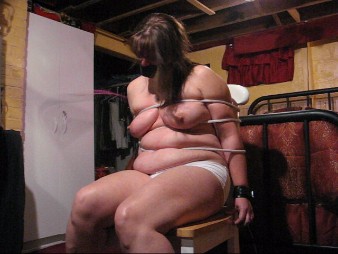 For the rest of the pictures, including an amazing set of full upper body welts, you have to go read her post. It's pretty intense, but (what I always love about Kaya's blog) it's fuckin' real:
It was full speed ahead right out the gate with the whip. I told him. That's too hard, man!

So he gagged me.

I have another shameful confession to make.

I'll try and make too much noise so that he HAS to dial it down a notch. *blush*

Thing is though, I really, really don't think I can stand one more second of the pain when I start hollering and crying. I'm not making it out to be worse than what I think it is, it seriously hurts bad. He's not always out to help me find my happy place or to sink into subspace or to just make me horny. When he wants it to just hurt, it's just going to hurt and I'm not pretending otherwise. It's pain, real pain. My reactions are not stellar performances when that's his intent.

But I do know that he's bound in some manner to keeping things fairly quiet. Keeping it on the down-low. So when I'm sitting there thinking I'm dying, I'm gonna holler like I'm dying. It's survival instinct! Sometimes it works enough that even if he doesn't stop completely, he'll switch toys or switch spots, which is sometimes all I need to get a grip on things.

I tried that. I was really trying to get some serious sound around the gag. All I wanted was for him to slow down. The repetitive strikes of the whip so fast together – there just isn't time to breath, you know? The pain builds and builds.. and I was already all fuckled up from the breath play and face slapping – I was in bad shape. That's all there was to it. So I hollered. Loud.

I thought it had worked too, as he lowered the whip and took a step away – only to reach the stereo where he cranked the volume up higher. I knew I was sunk then. Up a shit creek without a paddle.

After that I was a mess. I utterly and completely lost it. He felt so far away, I was all alone with the pain and my tears. I don't know really how to describe that distance or how badly it fucks with my psyche. Once I enter that space, everything hurts more than it otherwise would. My nerves are all ramped up, on edge, jittering.

I was sobbing. Sobbing. Drooling around the gag, snot running down my face, can't move, can't breathe, can't connect. And him? He was so turned on he could hardly stand it.

When he was done hurting me, he left me alone for a bit, putting my stinging body into bed, handing me the bullet vibe, and telling me to calm down and get ready. It took me a bit to find a happy place. For a while I was angry-vibing, hating every second of that vibrator pressed against my over-sensitive body, cursing him for "ruining my good scene time". It took a little bit, but I got there. I found a good place.

I always do though. Those kind of scenes, heavy ones, I need those way more than the lighter fluff scenes. I just don't always know that at the time. It's hell to get there, but what lies over the horizon is fucking wonderful. For both of us.
Me, I choose to believe the whipping was preemptive punishment for her self-denigrating "fat girl" comments. OK, so she's not the twelve-pound blonde waif heroine who gets tied to a chair in a thousand old detective novels and semi-porn B movies. But in the picture I posted above, she's a real half-naked woman tied to a real chair and about to get one hell of a real whipping. Right on her bare titties, and everything. Which we get to watch. How is that not hot?
My point being, if you're obsessing about body types by this point in our tender tale, you have not been paying attention. Hello, hot scene going down here!
Elsewhere on Bondage Blog: