I love it when some of my favorite blogrollees get together and play. Last week Violet Blue went to Seattle, and while she was there, she stopped by the bondage lair rope factory of The Twisted Monk, who seems to be the go-to guy these days for ladies who want to be roped and dangled a bit. Stay with me, there's video, and it's easy to see why he's a sought-after experience.
A still photo from Violet's account: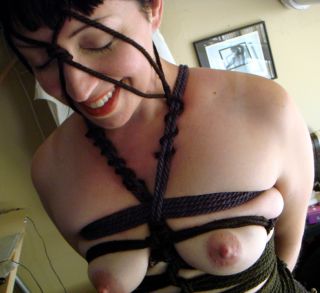 And — this being the funnest part — the video Violet posted. Monk's got this astonishing energy, one minute he's checking safety issues, then suddenly he's like a divine whirlwind of rope. After he gets a couple loops around Violet, she inquires what happens if she struggles. He invites her to try, she does, it doesn't even slow him down, and before you know it, they are both laughing, he's still tying, and then she's suddenly tied and all done struggling. Big smiles all around, it will make you grin, and it's play in the best sense. Fun.
Monk's account is here.
Elsewhere on Bondage Blog:
You can
leave a response
, or
trackback
from your own site.