A couple of links from ErosBlog on matters entertaining to the bondage blog audience. First, this picture of an old chastity belt: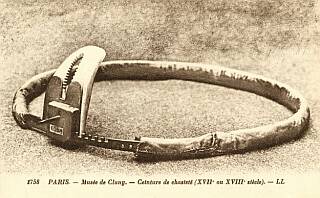 And then this amusing tale from the modern-day adventure in voluntary humiliation that is airport security:
When a 40-year old British woman set off a metal detector alarm at Athens airport, bemused security staff found that it was caused by a chastity belt she was wearing.

"It happened a few days before Christmas. The metal detector went off and after a further check we found out she was wearing a chastity belt," airport police official Dimitris Tzouvaras told AFP, confirming a report in the daily newspaper To Vima.

According to the press report, the woman told police officers her husband had forced her to put on the belt to make sure she had no extra-marital affair during a brief visit to Greece.
Both comments and pings are currently closed.